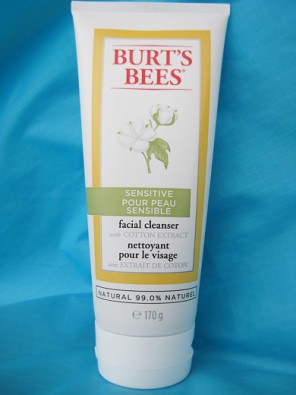 Burt's Bees Sensitive Skin facial cleanser.

This facial cleanser left a light moisturizer feel to my face after I used it, I almost didn't feel the need to put anything else on my face. But since I do have tight dry skin after cleansing, I did apply a face cream afterwards. I've been using it in rotation of my Marcelle, or Philosophy cleansers.
I also have never used a thicker cream like cleanser before.  One thing that I did not like, was that it took three tries to remove all of my mascara off. So that was definitely an issue for me.
Burt's Bees Energizing Body Bar in Mango & Orange.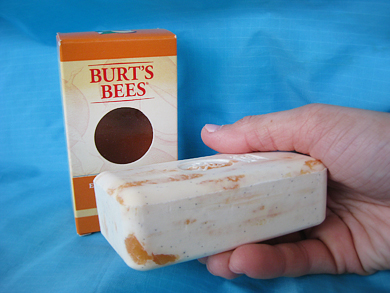 This is a big bar of soap! What can I say about a soap though? I'm not sure I would purchase this for myself for a second time, because I use a loofa in the shower and prefer liquid soap myself. But the bar lathered up nicely in my face cloth, and again left me feeling clean without making my skin feel tight.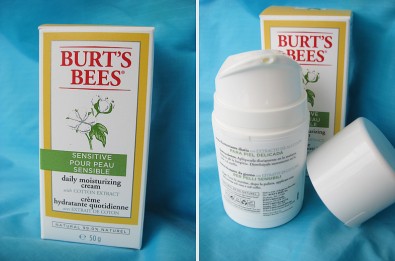 Burt's Bees Sensitive Skin daily moisturizing cream. This moisturizer has been in our bathroom since I first opened it. No rotation of products for my face for this gal! It's quite light on the face, so I wouldn't use this during the winter time. It also drys quickly into the skin without leaving any sort of greasy film. It lasts all day long and I don't have any dry skin patches on my face when I apply this. This one's a keeper!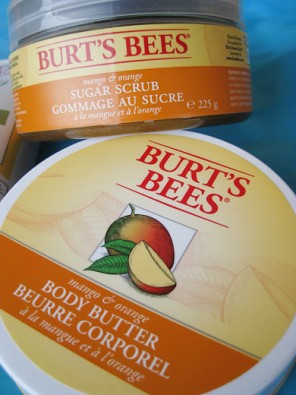 Burt's Bees Body Butter & Sugar Scrub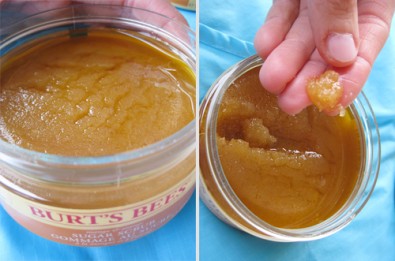 Oh my word you guys, the scrub looks so disgusting but I think it's actually my favorite out of the entire lot that I received. I've been using the scrub in conjunction with the body butter shown below, before I get ready for my self-tanning routine (seen here).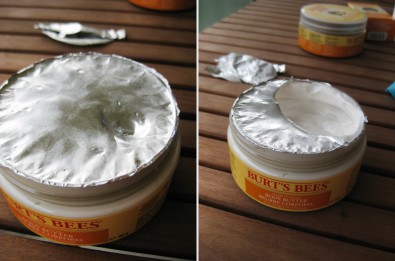 Oh gosh, this body butter was super difficult to open. They need to put a little lip on it more than what they currently have. I ended up getting it off in a ton of tiny little pieces.
As for body butter goes, I can't say this will rank as my top favorites. It's more of a cream consistency, and not as thick as I thought it was going to be. None the less, it's a great cream with a nice mango & orange scent to it. The scent doesn't linger all day, which is nice since I don't want to always smell like my lotion.
Have you ever used any Burt's Bees products? I've used their lip balms many times in the past but I've never used anything else. I'm excited to try out the Radience Body Lotion, as it's gotten a ton of hype on YouTube about it. Basically it gives your skin a super gorgeous glow to it. Most people use it on their legs when they're going out, or on the collar bone area for a nice sexy look!