Well, we're soon to be officially outnumbered – three kids in the household come December! Third time's charm? While our experience as parents has taught us that babies require minimal items, there are a few must-haves that have made it to the top of our list. We've come to realize that there aren't many things our little one truly requires. I wanted to share with you a few of my top picks that have been used for my first two boys and will continue to repurchase or use with this little one.
Ok first I have to let out a little vent. Sigh. My favourite OB/Gyn retired one month after I had my second baby, I was so lucky to have him deliver my two huge boys (both over 10lbs lol). So I had to scope out a new doc for this little one. I actually picked the doctor that assisted my fave doc, with my firstborn but it didn't work out with that one (see my previous post) and now I'm on another doc lol. Anyway, didn't mean to ramble on with that part. Had to let you know, y'know? K back to regular programming….
I'm pretty sure I donated/gave-away much of the newborn to one year gear. I need to search the house for the rolling bassinet, (I know I gave away *all* the clothes up to 1 year), my breastfeeding pillow, a baby holder (you know those, right?). Let's dive into my favorite picks.
Sound Machine
I'm still using the portable sound-machine my friend Nicole gifted me for my first boy over 5 years ago. My second baby (ahem, toddler I guess) sleeps with it on every night until I turn it off when I'm about to hop in bed. Holy jumpin's when it comes to newborns – you gotta say, sleep is a precious commodity for both babies and parents alike.  We know that a sound machine can work wonders in creating a soothing sleep environment. I'm kinda loving the calming white noise too. This time, I may get one that plugs in (we have one that just uses rechargeable batteries right now).
Feltman Brothers
Ok, this brand is the epitome of sophistication. These are the pieces you want to keep forever, and/or gift as heirloom hand-me-down pieces. From delicate smocking and intricate embroidery to vintage-inspired details, every Feltman Brothers piece is a work of art. I wished they had bigger sizes since my 5 year old *loves* to match his younger brother (they have gotten some coordinating sibling outfits from Feltman Brothers in the past). My newborn now has a handful of new pieces to wear too, and since this one is going to be born so close to Christmas, baby is going to wear some holiday outfits from their site too.
Bobux Shoes
We've been working with Bobux shoes close to 5 years, and now my second one is wearing his older brothers hand-me-down shoes — they still look so beautiful. Tiny toes deserve the best, and Bobux shoes deliver on both comfort and style. Bobux understands the importance of proper foot development and ensures that their shoes provide the right support and flexibility. My two boys have been wearing primarily their shoes.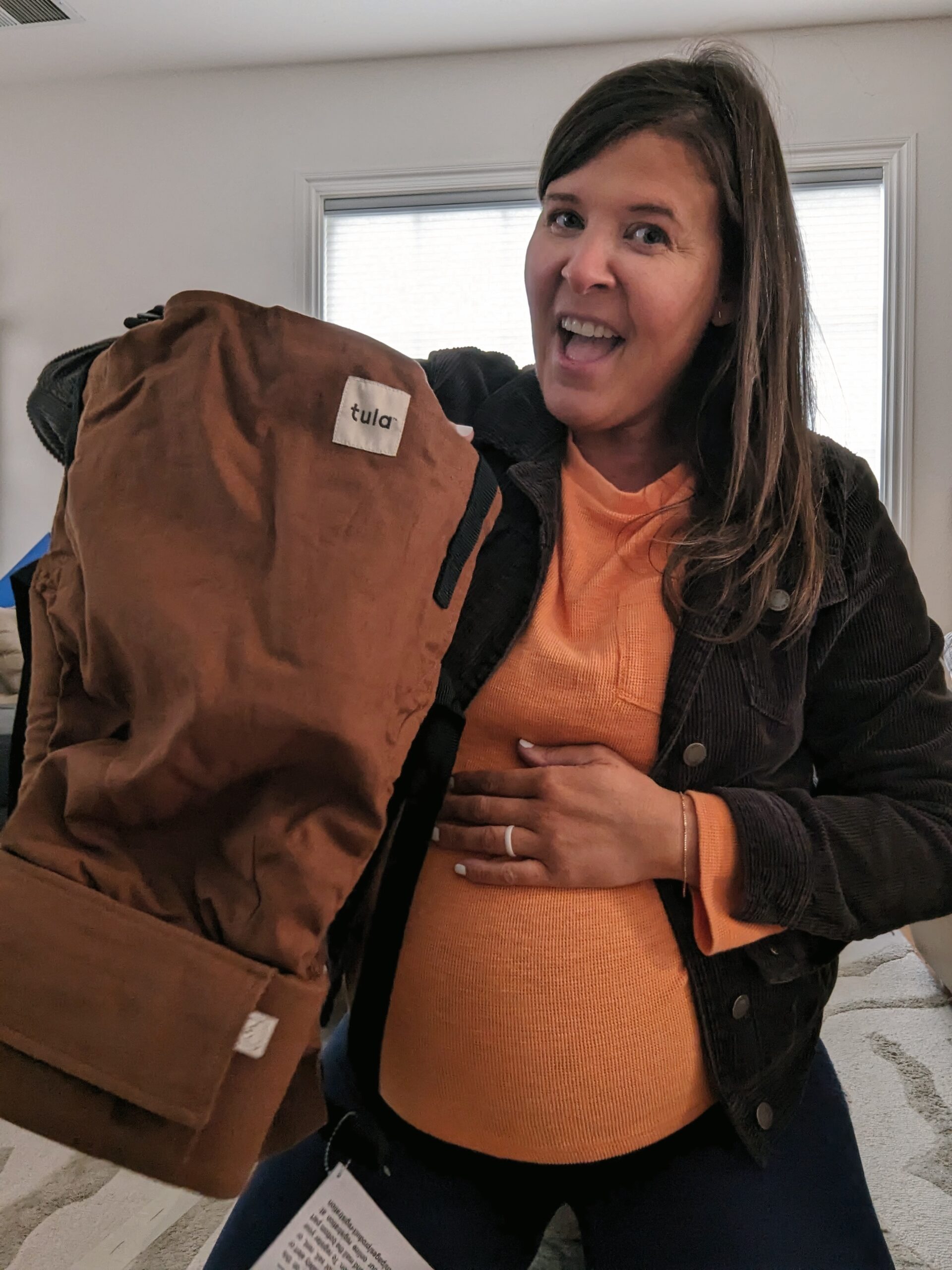 BabyTula
I know I'll be baby wearing a lot with my third little arrival, and I'm so excited to finally have a Baby Tula carrier – this one is called the Hemp Free-to-Grow Baby Carrier in the colour Bronzite and it's good for carrying up to 45lbs, so technically I could carry my first born the kindergartener in this, ha imagine! I'm excited to wear my newborn in this come December.
UPPAbaby
UPPAbaby strollers have earned their place as our favorite brand for a reason. From the Vista's adaptability to the Minu's portability, UPPAbaby has thoughtfully designed strollers that cater to the diverse needs of growing families. As proud owners of both models, we can confidently say that UPPAbaby is the number one brand for our family of 5. With their robust build and sturdy frames, we have the peace of mind that our strollers will last through multiple children, making them a worthy investment. I'm excited to see how pushing the stroller with all 3 kids is going to look – newborn in the bassinet, toddler in the toddler seat, and my 5 year old on what we call the skateboard (piggyback board on UB's website).
Harppa Baby Bassinet
My one "want" for when my baby is an infant was another bassinet with rolly wheels. I'm 95% certain I got rid of our previous one which was such a perfect size. I like to have baby in a safe space around me at all times, and having it on wheels (with brakes) is key – especially with a rambunctious toddler around who likes to poke at everything. The Harppa baby bassinet has all the bells and whistles: the wheels can flip up and turn the bassinet into a rocker, it has a detachable change table/pad with a buckle to keep babes safe, and also a mosquito net if you decide to take the bassinet outside – or in my case, put it up so big brother doesn't start poking the infant.
My Brest Friend Pillow
Yes the spelling there is correct. I was gifted one of these with my first born by one of my really great friends. I know I gave this one away after my second one and I were done using it. It's different than a lot of other nursing pillows out there – it's so much more firm and a lot more comfortable as it clips on to your waist, has pockets for carrying your essentials: phone, water bottle. Cannot wait to start using it in December!
Remember, every family is unique, and what works for me may not work for everyone. It's all about finding what resonates with you and your little ones. So, as you embark on your journey as a third-time mom or prepare for the arrival of your first baby, I encourage you to explore these favourite brands of mine, and hey – leave a comment of your fave baby items so I can discover some new ones too!