I've used up my entire bottle of Burt's Bees face cream that I reviewed here, and gave a few other goodies to my Mom, when I went back home to Newfoundland. I know she doesn't mind receiving opened tubes of things I've tested a few times. I have to share the wealth, right? I mean, I certainly cannot use all the products that I have!
Regardless if Autumn is on its inevitable way, I still want to have glowy summer kissed skin. Initially I had wanted to try out the Burt's Bee's Radiant Body Lotion since I've heard a few people on YouTube talk about how great it makes the legs look. But, since I'll be wearing pants in the next few weeks I have no one to show off my shiny legs to, ha! So, I've decided to go ahead and try out the Burt's Bees Radiant FACE lotion… made with (get this) Royal Jelly.  Doesn't that just made you think of whale blubber or something? I didn't know what the heck it was, until I saw the backside of the box it came in.
It actually has some interesting history. Check out what Royal Jelly really is: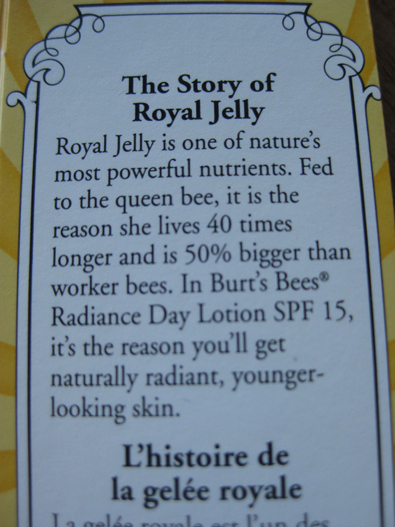 I received this set of three Radiance back in July. So of course, I wanted to test them out before I gave a review of the products. Which can take months to do so, right? I can't give a full review after just using it once or twice. Plus my Mom isn't getting her hands on these products. I actually requested that I try them out, so I knew in advance that I would already like them. 2 out of the 3, that is.
Back to the stuff with the Royal Jelly. The day cream I've been using it once a day, every day since I received it. I'm about one third through the bottle. Not bad. I just make sure my hands are freshly washed before I dunk my index finger in to grab a gloop of it to put on my face.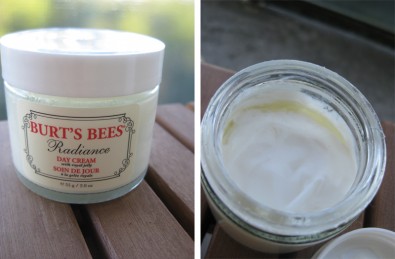 It pairs well under both my Laura Mericer moisturizing foundation, and the Bobbi Brown Luminous foundation (both which you can see more in depth in my makeup routine — which needs to be updated because I don't use BB cream anymore). I noticed some moisturizers don't work well with my foundations and actually look like my skin is coming off (it's the makeup that "rolls up" when I apply it. It's the strangest thing. Think eraser rubbings. That's what comes off on my face with certain moisturizers after I apply my makeup).
Day lotion:
It left a very noticeable white cast on my face after I applied this. I didn't like it. Basically, it was like taking sunscreen and giving it a good go over on your face, and not applying any moisturizer on after that. I felt like something was missing. The moisturizer! I didn't like this product and it's still sitting on the shelf. This one will be going to my Mom, when I fly home next week. It even came with directions, that didn't work:
Next, the face wash: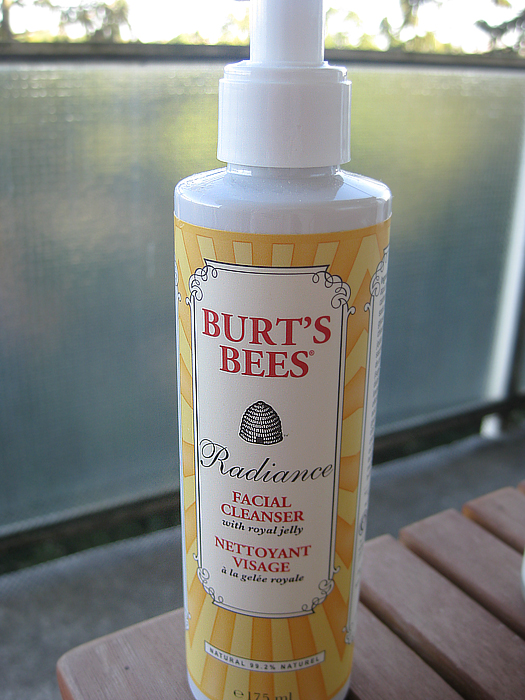 It's really hard to compare any face wash to my absolute favorite Philosophy — Purity Cleanser. With the Philosophy, I can get it in my eyes and scrub lightly or hard and it doesn't irritate my eyes. The first time I used the Burt's Bees Radiance Facial Cleanser, I got a bit in my eye. It was scented (as is Purity) and it hurt a bit, but didn't sting. It's a nice gentle cleanser and it's been on my bathroom sink for a few months, sharing rent with the Purity cleanser. So I must be liking it somewhat, otherwise it'd be chucked away in the back room somewhere.
Also when I use this cleanser, it doesn't make my skin tight after using it. Which is a huge bonus. A lot of cleansers dry my skin out really quickly to the point it's almost painful to smile! How rude.
Would I go out and purchase these products after I finished up with them? Yes to two of them. Day lotion is definitely out for me. But the others are a definite re-purchase, because they're so natural and gentle on the skin.
What is your favorite moisturizer, or cleanser? Also, what skin type do you have? I love hearing what people use.