Last Sunday was the start of week 2 (Day 5). Sunday CrossFit consisted of a warm up that left me thinking we were done the entire workout. My face was started to drip of sweat. TMI? I apologize. But it's true. We ended up doing mountain climbs, push ups and some other stuff that I'd like to forget, haha.
Workout was SUPER amazing on this day.
3 rounds: 21, 15 and 9 the last round
SDLHP (Sumo Deadlift High Pull)
Supines (pull ups on rings)

Finish your 21 SDLHP's then go and do 21 Supines, then back to SDLHP's and do 15, then 15 supines, and so on. What it looks like:
(Jumping was not part of our SDLHP's today.. only decent photo I could find). Incredible. My forearms are pumped like I just went climbing. Brings back some good memories :)

Monday's warm up was a workout on it's own. We ended up skipping rope for 20 seconds on 10 seconds off, we did that twice in a row then headed to do sit ups of 20sec on 10sec off, next was the kettle ball swings. I only did 8kg's since it was the lightest weight I could find. 20 seconds on of course, then 10 off – do twice. We had to do that whole round three times and our warm up was then done. Sweatin' buckets. Our workout was basically set up into two sections, men and womens. The women all took turns doing back squats adding weight to the 45lb bar each time. Since I was brand new only starting last week, the trainer took me aside and told me I'll only be working with him on technique and not adding any extra weight. Well by the end of it I had weight on it. I did 3 back squats of just the 45lb bar. Then he went to the men's side to 'coach' (i don't know?) them, then the women's then back to me. I added on 5lbs to each side, so now up to a 55lb weight. It was very difficult! At the end of the hour I went up to my limit which was 65lbs in total. That's all he pushes you to, your limit. That evening I went to bed and woke up around 6am to let my dog out to pee and my arms would not go straight. They were perma-bent. It felt as if my elbow would crack right off if I bent. It was pretty painful. In fact, even when I woke up for 8am my elbows looked very swollen. Funny how your body isn't used to certain muscles being used.
Icing my elbow Tuesday evening.

What the back squat looks like: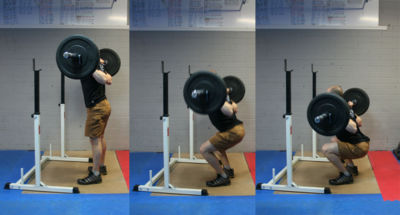 Tuesday oh yes, I went in even when my elbows felt like busting off. 7 crossfit classes in 9 days means its safe to say I love it. However I was given a modified workout this day as I showed my trainer that my elbows were twice the size as they normally are. He just gave me a quick cardio workout that had me out of breath. SUPAFAST. He told me my elbows were probably swollen from Sunday's workout with the supines and SDLHP.

8 rounds
Squats on medicine ball: 20 seconds on, 10 sec rest. Do it 8x FASTFASTFAST.
Next was sit ups. Shoulder blades back to the ground. He sat on my feet as they were lifting a bit. 20 seconds on, 10 second rest.
So my workout was basically done in 8 minutes or so. Well worth it. I iced my arms that evening and wrapped bandages on it.
Wednesday's photos of swollen elbow and having it wrapped a wee bit too tight. It wasn't painful at all. Just swollen and hard. I decided to take a few days off from working out. I didn't go to CrossFit much last week and took 4 days off and went this morning. My elbows were back to normal on Thursday and Friday. SO STRANGE.
Now I'm off to cook some late night supper while my Boyfriend looks at installing some home automation systems in our apartment. I really dislike that our landlord came in twice into our apartment (in 6yrs) unannounced. Plus, we're switching our internet provider this week and another stranger will be coming along. Hide those precious belongings!