I have to admit, I'm thoroughly addicted to viewing multiple fashion blogs, and online stores. Maybe I should change the topic of my blog from "personal randomness" to fashion.
The cold weather arriving has lead to many formal events and weddings to attend. Can you believe that I haven't had to wear anything fancy during the summer in YEARS? I'm talking about attending weddings and such.
I think it's always better to go with a classic style which is why I picked out a one-shoulder knee length sage colored dress from GoJane shown below.
I received the green dress pictured above, and I can't wait to wear it at my work's Christmas party and at another Wedding when I go home for Christmas! I think I'd like to pair it  up with gold jewelry but I need to go out and purchase some, preferably from an inexpensive store. I think I may end up getting some bangles and earrings and forgoing the necklace altogether. I think the neckline and the dress is just enough.
Of course I have to post a photo of myself in the dress as well. Fits true to size I would say, since I ordered my usual. The color is an exact match of what it was shown on, online as it is in person.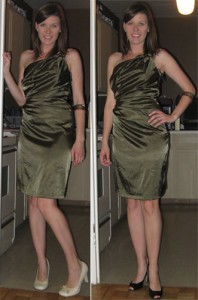 (front of dress with nude + black shoes)

(Back of dress)

So my main question is Black, gold or nude pumps? I'm wearing gold bangles and maybe some gold ball studs from F21. My black patent leather peeps are much more comfortable than my $5 Walmart heels, so I think I may go with that. Plus, does nude even go with gold? I have no idea.
GoJane's website is fantastic for those who want to look great on a budget. I mean check out this dress below for under $40! Unbeatable, right?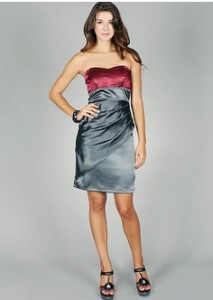 I was debating whether or not to get this silver/red dress, however I was more in love with the green dress which is why this one came in a close second.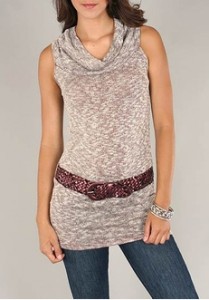 Cute top for fall, hey?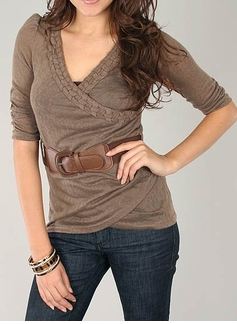 Clearly I'm a fan of neutral clothing rather than stark-black. I love this sweater top, and it even comes with the belt!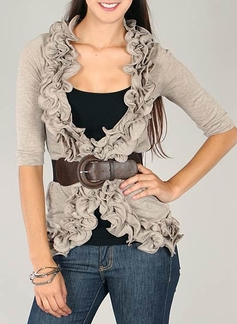 This one is cute too.

GoJane has some pretty nice pieces and a huge selection of clothing, shoes and I mean, HELLOO peep toe booties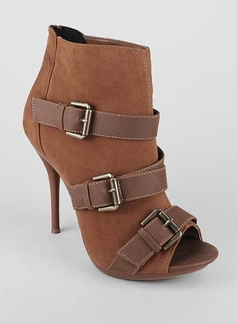 I contemplated getting some heels, but they must have ran out of my size in these sexy beasts. Plus I'm not sure how much more height I can add to my shoes. The above heels are 4.25″! Let me tell you, your calves will look killer in those, for sure.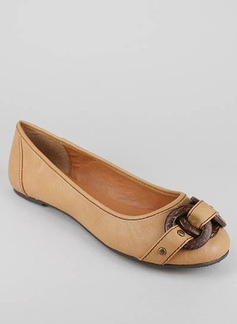 Their sales are pretty decent too. $8 flats? Sure they may only last a season or so, but at least they'll be cute! Plus GoJane carries half sizes with their line of shoes! I'm a true 8½ and what bothers me the most about one of the famous shoe stores is that they only carry full sizes.
I've noticed they get new stock in quite frequently, since I was waiting on my order to come in the mail I kept looking back on the website and noticed a few new things when I went there.
Have you shopped at GoJane before? Would you consider it?