Top: Joe Fresh. I actually purchased this shirt from a grocery store for $10!
Watch: Fossil
Shorts: Dynamite
Giraffe Shoes: Joneve (bought the same time as my zebra shoes)

I read my comments from my last OOTD post and I have to agree, I need to branch out of wearing these shorts all summer long. I only own two skirts that are work appropriate (to my knees) and I only like one of them which I posted a week-ish ago. I find dresses are a bit uncomfortable and my legs stick together when I sit down in a warm office environment. That and the fact they swirl around my waist and I always have to adjust them. I do have some pants picked out for tomorrow or Friday, I forget which. So I'll at least be mixing it up a bit!

I ended up buying a few things on my lunch break today, which also happened to be a dress (not work appropriate in my opinion, it's a bit too short) but it's nice none the less.  Pictures will be below!
Closeup of my watch, top and shoes:
I tried on these jeans a week or so ago at H&M, but didn't end up purchasing them because they were full price at $50. I went in today (mainly to go to Bath and Body Works because of their sale) and stopped in. Low and behold, those jeans were 50 freaking percent off! 50% yo! So I picked them up. They look nice. Won't be seeing me wearing a white t-shirt wearing these pantaloons. Stain the shiznit right out of them.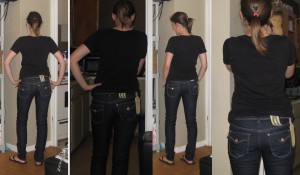 Nice butt pants. Forgive… couldn't decide which picture to post, so here they all are. I assume these would be classified under the "Skinny Jeans" genre? Get with the times, Nancy.
The front of the jeans:

Oo la la. Scott, take me out on a date! I need to wear these seksi genes.
I suppose you'd like to see the dress I purchased? It reminds me of the peacock dress I tried on and returned. But this is much more fitting, and nice, and too short to wear to work. I'll be bringing this one with me to my trip out west this summer!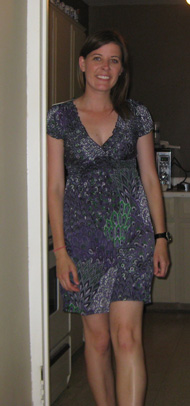 Okay. So I promise it looks much nicer and probably not as short as it shows in these photos. Self-portrait mode is difficult when you have a flailing dog bouncing around you.
Dress wearing outside:
By the way, Bath & Body Works are re-doing their packaging and coming out with new scents, therefor they're having a huge sale on … everything in their store. The soaps are $2.50 instead of $5.50!
Mmm yummy scented flavors.

Have a good evening all!