I NEED HELP! Tell me which items you love/hate! Be honest! I love honest opinions.

So I decided to go ahead and post some outfits that I bought yesterday and today.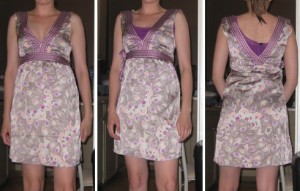 First up is a peacock printed dress that was pretty inexpensive for a dress, but expensive in H&M's store. It was $39.95. I'm not sure that I want to keep it. When I first tried it on, I loved it. But I have a few issues with it. It's too revealing and incredibly low cut (the first picture, the dress is 'hiked up' so it actually does go lower than this, and you can see my bra. Classy.) So I bought a camisole to go underneath, and now the straps seem a bit too large and kind of fall off my shoulders. I hate that I had to buy a cami to go under it. They didn't have any more smaller sizes in this dress and I had to get a bigger one. I'm iffy on this. The only thing that made me want to buy it for sure was the pattern, and fabric. It's gorg. Opinions?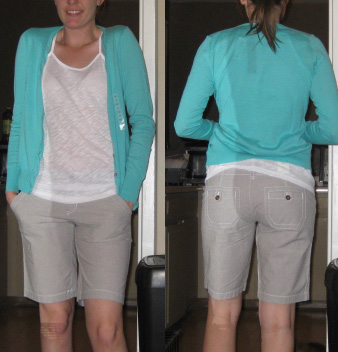 Second outfit in the running is mainly from Old Navy! This cardigan was pretty stupidly expensive from Old Navy, but it's nice and I wanted a bold color instead of wearing my basic boring colored cardigans in the colors black, white, oatmeal, and a green. The long shorts are also from Old Navy. Those are a keeper. Tank underneath is a really nice one, but now that I see up close, it may be sort of see through? Ew… but I love it. It was $18 at Jacob. Thoughts on this outfit? I may wear this one to work on Tuesday!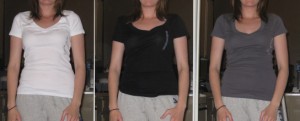 I also purchased 3 v neck tops from Old Navy. If you bought two or more they were cheaper… or something. I think they ended up being $8 each? I love them. Perfect for layering, which you'll see below.

I don't normally wear skirts, but I definitely ended up trying on more last night than I did in my entire lifetime I think. This one I'm not sure is "me", it's super businessey looking and actually very flattering on in person. It's just – when the heck am I going to wear this? At least I had a $10 birthday coupon for it. It came from Ricki's. Ehhhh…..
Then I went to Jacob and picked out some nice pieces. I think the pink tank will go back though. I also bought a white one (which you can see in the photos above – with the bright blue cardy)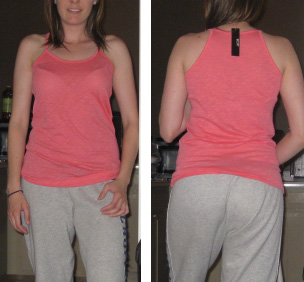 Excuse the sweats… had to re-take photos of this pink/salmon colored tank.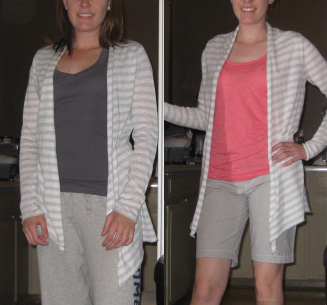 The cardigan was something I was itching to buy. I tried on the brown/white stripe too, in XS but they didn't have an XS in the grey. I loved the grey more, and hopefully it'll shrink in the wash. It wasn't much of a size difference, but more so in the arms. I don't think it looks too sloppy does it? I'll be pairing this with a white belt I think, across the ribs. I've never worn one of those "new style" (lol) belts before, and the sales associate at Jacob had me try on like 6. I loved one, but one of the buttons were broke, so I may go back and get it this week when they get more stock in my size.I layered it both with the grey tee from Old Navy, and then with the coral colored tank which … looks good. Should I return that coral one? Halp!

UGH. I LOVE long cardigans.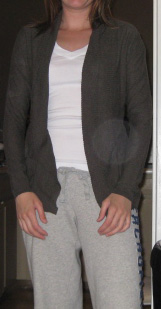 I bought this baby at Banana Republic last weekend. As soon as I bought it, they gave me abunch of 40% off coupons for certain dates. I think I'm going to go back to the mall and get the exact same one, and return this one (which still has the tags!). It's so pretty. I can't wait to see if I can get it for cheaper, hahaha!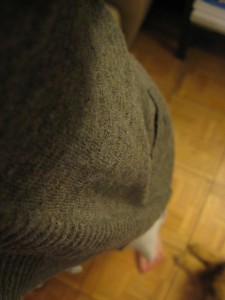 See it up close and personal? So comfy, and so soft. Recommended purchase for sure. A bit of a splurge though.
Yes. I went wild at the mall. It's okay though. I didn't spend as much as you think I did. Or did I? :/
Now, please leave feedback. All of you! :)
I think I'm going to return the skirt (even though it's perfect for business attire, and/or an interview – I just don't feel liek I'd wear it enough), and maybe the H&M dress, and the coral top… Hmm. Decisions.