I'm always trying to find a unique gift for my Irish nephews (who are moving to Canada!!!!!!!!). There's four of them ranging from 18, 11, 3, and 2. The three year old will have his fourth birthday in July and I've only met him once.
That doesn't' stop me from being a super cool aunt and getting him gifts. I already have the two little one's birthday and Christmas ideas picked out. They both come from the same Etsy seller too! Maybe I can get myself a deal :)
Want to see what I've been eying? Of course you do…
Super hero cape. All little boys love these. I'm sure my nephews will get a kick out of these. Especially with the eye masks.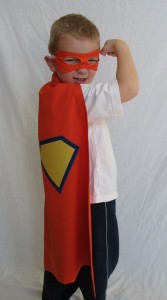 Monster bathrobes! This will be their Christmas gift I think…one blue, one purple. It even comes in a frog, duck and monkey pattern!
Want to know the Etsy seller? Leave a message in the comments and I'll get back to you! :)
Etsy is a perfect place to buy things securely online due to their fancy POS systems by paying via paypal, OR credit card. Very safe! I think Etsy is the place I've shopped online the most for any gift.