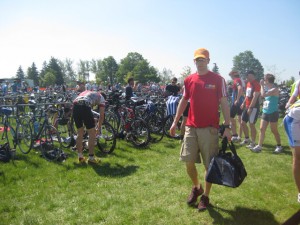 Today marked the official start of race season! That's my boy in transition (wearing the orange Timex hat that I caught in the bleacher stands at Ironman Canada last year). 
This morning we woke up early and headed to the Duathlon race site which conveniently was in our city. Cameras were prepped, soccer gear was packed, and we had a new companion with us this year — our pup Alfie!

Alfie was going wild today, so much so that I had to keep the head halter (it's like a muzzle but not) on him the whole day. I took it off once, so he could take a break from it. But when I tried to put it back on he went wild and vicious and took a chunk of skin off my knuckle. Little kids all wanted to pet him, and I'm all "Uh nooo…. he's not really friendly" which is unfortunate, because I'd like him to be friendly. I suppose taking him out to a busy spot like the Du today was good for him because by the end of it he was calm, and only barking occasionally at anyone who spooked him from behind. Either that or he got sun stroke. I KID I KID!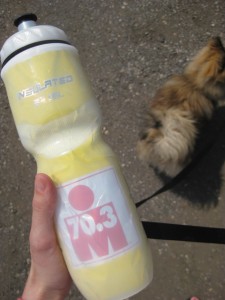 It was pretty scorching out there today. I think it ended up being 29º. I drank two of these bottles, which I shared with Alfie too. He was panting the whole day – even while we were in the shade. Poor dog is so fluffy and furry, he isn't used to the heat.

I thought I would be fine with this light cardigan, but I ended up taking it off and just wearing the tank top and shorts the whole day. Too hot with even a light sweater. I wore a nude colored bra so you can't really tell that it's see through. Right? That's what I'll keep telling myself anyway.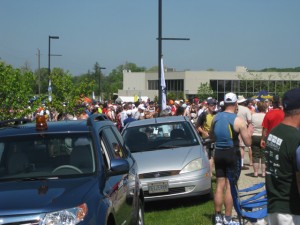 First wave start.It was extremely difficult to take photos at the beginning because as I mentioned, Alfie was a huge handful and was being insane.
There goes Scott running by (orange hat far left corner lol).
Done the first 4k run and off he goes into transition with his coner (aero lol) helmet on. Hardcore.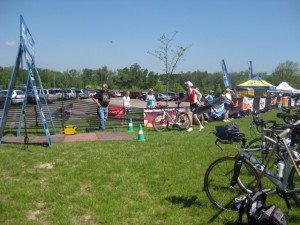 Running out of transition! GO SCOTT!
Bike on!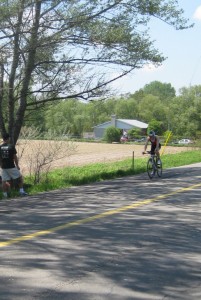 Wow that was quick huh? Back from his 30k ride in no tiiiiiime.
Rather than waiting for him in transition again, I decided to set up shop and sit down and wait for him to come to me, so I could get a decent shot of him on the run. I think this one is just "ok". It's hard to get a good action shot!
There he goes! Okay, you can't really see him – my camera is pretty slow to take swift pictures.
By this time, Alfie was getting calm yet overheated. We stayed in the shade as much as we could. But towards the end I waited in the sun for him to come around the corner to finish his last 4k run!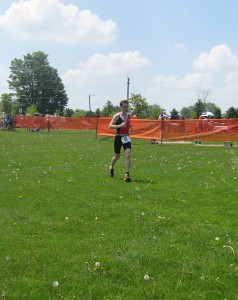 Annnnnnd there he goes! Strong til the finish!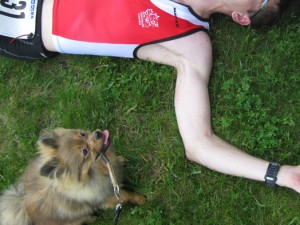 Break time :)

Once Boyfriend's race was over, we immediately headed to my soccer game which was at 2:00 not too far away from the Duathlon, conveniently. I ended up changing before the game but we wanted to wait for the awards ceremony because my Boyfriend placed in his age group. Way to go!
I ended up not making the first half of our game. We did end up winning from my assist though! I crossed it over beautifully (if I do say so myself) and another forward plopped 'er right into the net. Score ended up being 2-1!!
They must have ran out of men's medium shirts for the boyfriend, so I ended up getting a great free technical tee (perfect for running) for myself! I didn't end up taking a picture of it because it's in the other room and I'm exhausted now. Being out in the heat, running around was enough to knock us both out cold. Add to the fact that I pulled my groin muscle at soccer this afternoon, I think it's safe to say we're going to have a relaxing evening.