Oh man, I miss doing weekend recaps, even though they weren't a regular thing; they're still fun to do!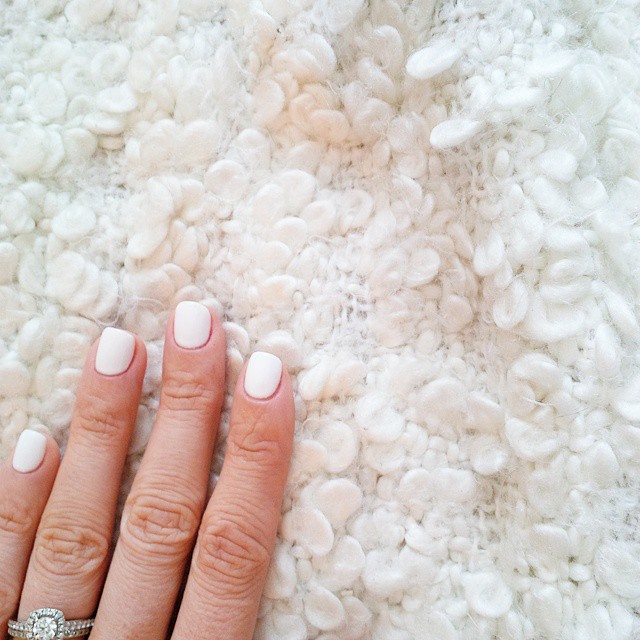 I'm going on week 3 (as of today!) of having my white shellac manicure. Not a chip in sight, just a bit of growth. The woman I went to was a perfectionist and added an ungodly amount of layers which I started to get worried about. It turned out to be the best manicure I've had in my life. That picture is from the first day I got it done, looks nice hey? 

My husband is upping his ante with training now. Ironman Lake Tahoe isn't too far away now, so it's crunch time. Just hope that this year it's not cancelled like last years was, ON RACE MORNING. Ughhh. Every weekend he is gone for basically half the day. Putting in 6 hours on a bike, following up with a 30km run after, and yes he is totally using my spibelt that I reviewed not too long ago, he's honestly loving that fannypack haha.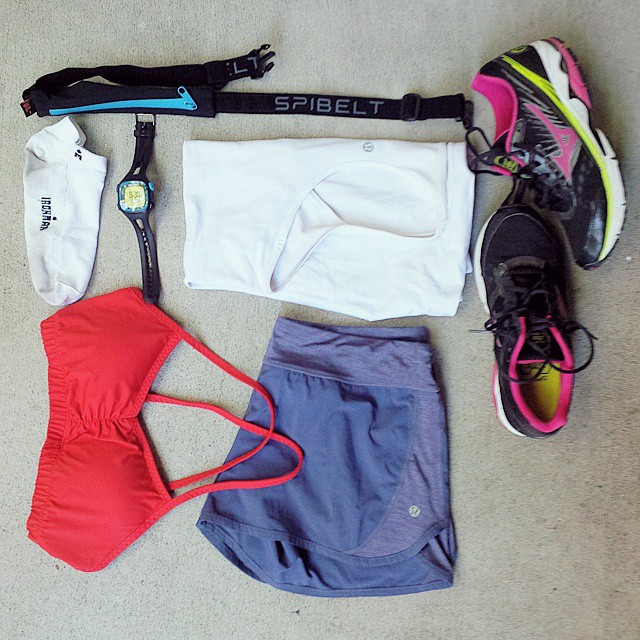 He and I go on runs together, with Alfie every weekend too. Except, it's nowhere close to 30 clicks. 6 kilometres is enough for me, and I'm there drenched, sweat pouring down my back. I'm looking at getting some new sneakers soon! I have had these Mizuno Wave's for a while. This might sound random, but I am really loving both the (red) Handful bra that I got from the Title Nine event, and the Target Champion sports bra's. I have the Target one in white. It's pretty, especially under a colourful lululemon tank.
Let's talk about Sunday dinners. Who loves'em?
Last night I made salmon my new favourite way: equal parts mustard + vinegar (1 tbsp is enough for 2 salmon fillet's), and top with fav toppings such as cherry tomatoes, feta, dill and a splash of lemon juice. On the side I cooked up some baby carrots with a dollop of butter, Chef Sophiane's side of roasted garlic and rosemary potatoes from Eat Mise, and broccoli/cauliflower, then a spinach salad to devour first. Sunday dinners is what I long for — except I'm not a huge fan of spending a ton of time in the kitchen, especially after we both get back from a run together. I still want to have a nice hearty meal to sit down and enjoy with my husband though, so adding a few sides to help in preparation definitely is worth it.
Dessert was a fine mixture of three delightful desserts, also provided by Eat Mise. Although I ordered sides and desserts, they do offer entrées to choose from too. Apparently they will be rotating their menu each month, which is exciting. I really hope the start-up takes off, and I wish them all the best. I'll definitely be ordering from them again in the future.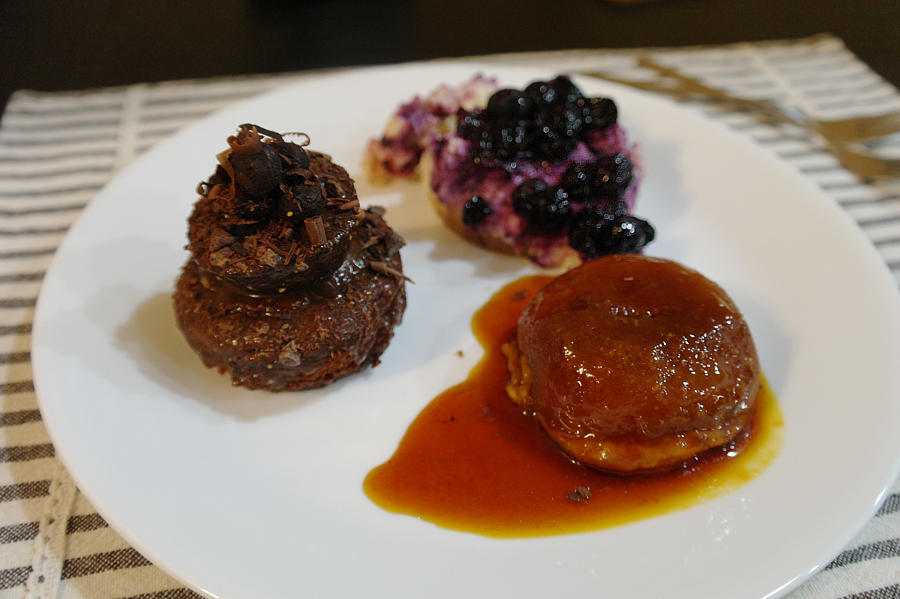 French Chocolate Cake with Blueberries by Chef Sang Ae: There were 2 layers to this, the first was definitely chocolatey, and the second had almost a dense cookie texture. This was our 2nd favourite of the trio.
Apple Tarte Tatin by Chef Sang Ae and Chef Sophiane: Unfortunately we both were not a fan of the apple tatin. It wasn't sweet, and had almost a sour rum flavour (not to be confused with gone off), we were expecting it to taste more like apple pie, somewhat.
Beet & Berry Cheesecake by Chef Charles: Give me all the cheesecake! All of it. We both were digging into this one moreso than the other two. Although it didn't look like the picture, it still tasted nice and creamy, with a nice shortbread crust.
To give you a bit of history on Mise, it's a start-up company in San Francisco that I ended up contacting back in July, asking if they'd be interested in me being one of their first testers when their site launched just a few days ago. Heck yeah and they said YES! And guess what? I'm not getting paid to say anything about them, I was given a $20 credit and I was genuinely interested in trying out some of their foods from the Chef's.
Mise's belief is to spend more quality time with your friends and family, and less time disappearing into the kitchen to check on things. I think this would be an ideal thing for people who have busy lives at work, and aren't a fan of cooking in general, because the cost of the meals aren't really too bad. When you add in free delivery and no tip required (says so on their website, it's not me being a stindge here lol), it's pretty decent. Plus, who doesn't love getting dishes from local chefs, especially prepared in small batches so you know it's not cooked and waiting in a fridge days beforehand. Their dishes arrive chilled, never frozen. Eat Mise makes real meals, meaning no added preservatives, straight from local chefs – gotta say, I'm pretty excited to read one of the items I got was made from a French chef.
OH MAN… how did I forget to mention this! I cannot believe I am getting to review hair extensions. I'm not entirely sure how I feel about it, because I mean… it was someone elses hair before it's going to go on my head. They arrived at my doorstep a few minutes ago, and I hope that I can put them in my hair and have them be somewhat undetectable. Don't worry, there will probably be a funny YouTube video about it, or a very honest blog post, haha!
I'm looking forward to the end of this week, because there are a few events happening in San Francisco — will I see you at the Makeup Show SF, or San Francisco Sustainable Fashion Week events? I might vlog the two events, if I don't get all awkward and weird :)