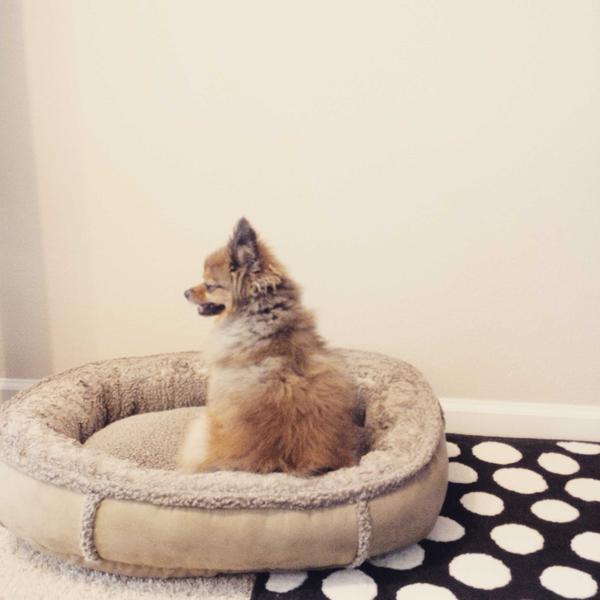 Today, I have a complaining ranty post about my situation because as you might've noticed Pomeranian Friday hasn't been happening the last few weeks in a row. I haven't been taking Alfie out anywhere, poor pooch I can tell is feelin' the need to get out and go somewhere new and exciting. So there above, is a photo of him in time-out a few days ago (yes I'm being serious).
I'm not sure if you saw the post at the end of July where I visitied the Emergency Room for the first time, due to my first allergic reaction.
It's still going on and I'm so fed up. This isn't a (well I certianly hope not) chronic ailment, nor am I fighting for my life, and quite honestly it's not a big deal because it's only visually ugly and ocassionally itchy. Especially given the fact that young people in my life have passed away recently. However, I have to remember to put things into perspective, stop complaining and stressing about it. But when it's been going on for over 4 weeks, you start to feel down and out. I haven't talked about the hives much on my blog, because honestly I hate talking about it or even thinking about it more than I already am.
Now I don't really care to show you at my worst, but if you are interested in how they look, this is a minor outbreak on my arms (it got progressively worse that night).
Here's a rundown of what's been going on since the first outbreak on July 16. It ended up getting so bad my lips swelled up and I went to the E.R on July 20. There I was prescribed 12 days of steroid pills and an epi pen which I'm supposed to keep on me at all times. Good lord those things are bulky.
After I finished the steroids, my hives were gone for a day or two and flared back up. I could take a steroid needle shot in the butt cheek, but I don't want to have more strong drugs in my system right now. If they don't go down after 6 weeks of having them, I will go back to my Doctor to request an allergy test.
Each morning I take 2 allergy pills (per my DR's request) then a benedryl at night. That seems to be working for the most part, because right now I only wake up with hives, every g-da&m morning. It takes about 2 hours for the hives to go down, and they're gone for the day until around bedtime they flare back up.
They have such weird symptoms. Some mornings the bridge of my nose and eyes are swollen, other days I have cankles or 1-2 hives on the body. Yesterday morning, I woke up with full blown hives once again.
I am tracking what I am eating, and what my symptoms are each time they act up. So I need to look back and see what's causing them. I sure hope it's not my egg bagels and tea. I cut out caffiene for a few days, but it didn't seem to be doing much for subsiding the hives. Please don't give me any advice LOL….that sounds so rude. But really, I am trying my best to rack my brain what it is I'm eating that is causing this.
Anyway just a little rant I needed to get out.
Leave me comments letting me know what you're up to this weekend!