I disappeared for a week there, didn't I?
I needed a break so I took it. Doesn't mean I didn't stop posting on social media, cause ya know you can't tear me away completely b'ys.
What have I been up to last week? To be honest it wasn't all that exciting, in fact it was the opposite — annoying if you must know.
I went to my first allergy appointment last week, because I could no longer handle the 6 weeks of hives. Taking a couple of over the counter allergy medication was driving me nuts, considering I rarely take ibuprofen during that time of the month. Taking pills all day long is totally not my jam.
Booked the appointment, did a bunch of breathing tests (tests show I now have asthma?!), 8 vials of blood was taken from me, and I was pricked in the back with 110 allergens. Allergic to nothing, blood test reports will be back soon. Then I booked another appointment with my family doctor for another issue. I stumped my doc but turns out I'm fine. Not only that, I brought up the concern I gained TEN pounds since the hive outbreak. Apparently it's a side effect of the steroids I was on earlier.
Sooo. There's that. I feel refreshed from taking a break off blogging for a week. Although my hives are still peeking through regardless of all the medication I'm on. But regardless, I'm going to start piddling through my fun makeup and skincare items I received this summer, because HELLO I can't wait to try them out for myself and give you guys my honest opinion. And you know I'm going to be honest about that.
Ain't no holding back. C'mon Beauty Talk Tuesday! Not-so-sneak-preview: I went to a Makeup Show Pop Up in San Francisco the other weekend. Had a blast but left early because: bloodshot eyes + hives made me really embarrassed. Recap soon! Of the event. Not the hives. Duh.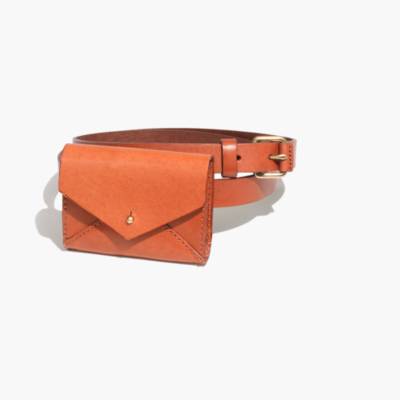 Doesn't this remind you of Girl Guides back in the 90's?! I wonder if I still have my leather pouch back home in Newfoundland, haha can't believe it's making a come-back and from the coolest store (Madewell) at that.
And I'm some bloomin' excited the fall weather is coming back. That means sweater weather! I love wearing my hoodies and jeans…and socks without my feet roastin' right off! I got some cute socks you guys. They're right up there with my favourite things like stationary. Anyone else?
P.s: Tunes on Songza have been keeping me sane when I didn't want to leave the house due to my appearance (ugly hives). :)
P.ps: Come back every day this week for a blog post — I'm on a roll!