I forgot to take a picture of Tuesday's OOTD because I literally woke up at 8:24 or something and had to be out the door before quarter to nine. It was a boring outfit, and probably looked like this getup. Where are those giraffe shoes of mine!!?? Jeesh.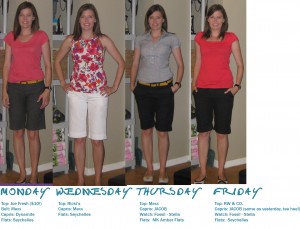 I chopped off my shoes (and didn't really want to take another picture), by accident on the first two days. Funny, I'm wearing the same shoes. The camera doesn't like those flats I don't think. HEE HEE.

Funny how one looks so different each day. I mean look at Monday and Wednesday. My eyes…!! Guess Mondays are harsh on this body ;)

My running buddy needs to start her own blog because she has such great style, and would give me better inspiration for outfits, since she helped me pick out a neat little belt to wear over my cardigan. Not even on my pants. Like a "waist belt" but it's really nice. I'll show you guys next week, maybe I'll wear it in my OOTD posts!!
Have a great Friday morning/day/evening! See you all tomorrow!