I have been using my MAC makeup brushes for quite some time, and even though a lot of beauty guru's rave about them, I still don't think they're 100% amazing. Sure they apply my makeup pretty well, but they shed on my skin, and some of the face brushes are actually scratchy on my skin like the concealer brush and even the 187 ends up scratching my face in the mornings. Not something I am willing to do every morning, especially when I'm tired and cranky.
A few months back I made the switch from using expensive makeup to a drugstore brand; Rimmel, which has been working quite well. My expensive makeup was just breaking my bank and I couldn't justify within my budget, spending $40 every other month on new foundation.
If I'm feeling a bit lazy and don't want to be scratched by my expensive brushes I occasionally apply my makeup with simply my fingers. But sometimes that just globs it on and I'm not that great at applying it.  So clearly, I have been on the hunt for new products and brushes to try out that will be much easier on my face, and budget.

I found Ecotools website, and I was definitely interested. I mean, look at the size of the bronzer brush which only costs $9.99. Heaven. on. skin.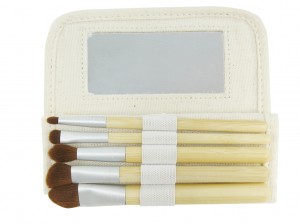 This is their 6 piece brush set for eyes at a great price for $7.99.The celebrity makeup artist, Meredith Baraf, shows you a video of her applying makeup on a model, mentioning that anyone can can create a great look with a lot of blending and smudging in six short steps.
I received the eye brush set and bronzer brush shown above. It came in an enormous box, and though I have a suggestion for the company to save paper and money — ship in smaller boxes! Or even bubble wrap envelopes perhaps? You can see the size difference between the box compared to the brushes. Odd!?
Up close and personal:
Notice that? All the brushes are labeled so you don't have to ask yourself "what the heck is this one for"! Isn't that a great idea?

I was dying to try out that huge bronzer brush of theirs, and it lived up to my expectations for sure. Except I don't use it for bronzer, as I still use one of my other brushes. But I bought a new powder blush and I apply that on, with the bronzing brush. It distributes color exactly where you put it and the brush doesn't feather out unless you move it to where you want to go. It's almost like a rounded stippling brush. It's very soft on the face too, and get this: it does not leave any brush hairs on  your face like my MAC cosmetics brushes do! What the heck!! AWESOME.

Ecotools has made a conscious effort in creating organic products, as everything is either recycled or earth friendly. Even the ink used on the packaging is plant based. Impressive, hey? Pretty nice on your wallet too! There's more selection on their website of course, so take a look and see if you find anything you like! They don't just offer makeup brushes either there's some pretty high quality bath and beauty products, bath and body, and even cute little cosmetic bags — I kind of LOVE this brush/bag set.
I'll definitely be shopping from the Ecotools site for maybe my sister-in-law's Christmas present. I'm telling ya, I am an early shopper! I also spotted them at Real Canadian SuperStore (grocery store) for all you Canadians who would like to test them out!