Today? Today was productive after plans were re-arranged for next weekend. I woke up early (okay not really early. More like 10AM) and cooked up a scoff for the Boyf. Scrambled eggs, hashbrowns and sausa-gores. While he was chowing down on the eats I made him, I ended up making some blueberry muffins. I usually make this treat for us once every two weeks. As weekly probably would be a bit crazy.
Here they are, all wrapped up! There's only six left. Out of 12. I made them today. I think the boyf likes them. I have to admit, I ate two already as well.
We had to run some errands today, mainly so I could use my coupons. I got this deodorant for $0.50. You can see more elaborately on Locupleto (my coupon site!). I also did not pay full price for the razor and cheese strings. Yum, cheese. I was mainly looking for outdoor cushions for the mini balcony we have to go on our chairs. But at least I got some good deals regardless of not getting the cushions!

Quick question. Do you ever get your dog groomed? I find it a bit sketchy unless I was in there watching them myself. I heard too many stories about their paws/ears being snipped and cut a bit. Anyway, I was in Petcetera today, and I was SO put off watching the woman trimming this one schnauzer's ears. The dog looked at me, and moved his head as I walked, and the woman yanked the dogs ears. It looked rough too!!! I was so amazed that she did that in front of me. Do not dare yank a dogs ears! I was furious and wanted to say something. But of course I didn't. The poor thing :(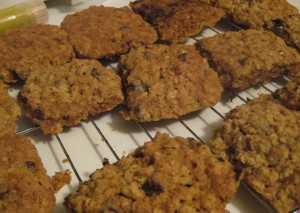 When we got home I was in the mood for some more baking, and ended up making these oatmeal chocolate chip cookies that I needed to cook way longer than said 12 minutes. Um, I'm not sure why. I'm no pro at baking and only really started late 2009. But they tasted good! Just a little flat. I should have read the reviews on the recipe first, because everyone who commented added more flour, more something else… and just made them NOT flat. Also? Chilling the batter before you put them on the baking sheet? Did not know that trick. Apparently it helps them from oozing all over the darn place. Like mine did, into one huge cookie. Which is why my cookies are all squares. Because I didn't know which cookie was from the last. Mmmm I'll make these again. Just read more carefully. I also think I went a little stir crazy (pun so intended) with my brand new hand mixer. Wooops.
AND! I was bored waiting to do errands and prettied myself up with some of the Sedona Lace eyeshadow palette (that I reviewed in January!), and played with my makeup. So fun. Won't be fun wiping it all off tonight though.
Adorable colors on my eyes, right? I used some peach and a hot pink and was like… WHOA. Bright! Then I toned it down with some brown in the outer "v" of my eye. All normal now! :)
Creeper eye.
Full face, showing my lips so I could show you my favorite lip products at the moment. Why does my face look pinker? Oh well.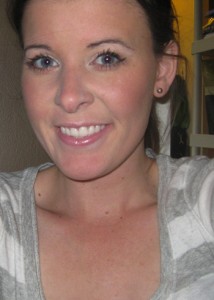 SO! Favorites. Avene Lip balm. GOSH Darling lipstick, and some stinky weird smelling gloss from BBW.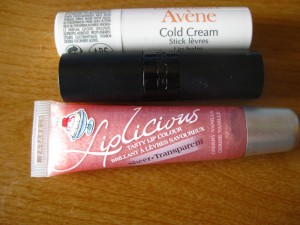 Now. It's 8:30 and I have no desire to cook supper. Umm..help!