I was supposed to go to Toronto last weekend, but it didn't work out. We wanted to see the 3D King Tut movie that was playing at the AGO. This weekend was supposed to be the closing weekend, however it was extended until May 2. So our plans weren't urgent that we had to go last.
The boyf ended up going to a Jays game with a friend, while I ended up taking the subway by my lonesome to figure out where to go shopping.
As ridiculous as it sounds, I always wanted to try on a pair of expensive shoes. So I went to Holt Renfrew and eyed some Jimmy Choo's ($695 lol) and ended up trying on some Tory Burch flats for $270. I fell in love, and want them. Actually, I want the python flats like it's nobodies business. I may have to splurge. Honestly. It's ridiculous, but shoes last me a good while anyway. I'm still wearing some old DC skater shoes that I bought in 2002. Mind you, I slip and slide all over the place because they're so bald on the soles. But still?
Instead of walking all down Younge Street for however many blocks it was, I decided to chance the subway once again and ask the TTC drivers where I'd get off lol. They're normally known for being quite unfriendly, but I lucked out with a younger woman who must have actually liked her job. "Southbound" I was for the Eaton Centre.
Hi Eaton Centre!

There I went into Forever 21 (which I really don't understand the fuss of, now that I was in the store) it reminded me of H&M but smaller! I still ended up buying something from there at least. I do like how everything is cheap, but I couldn't find anything that looked nice on me.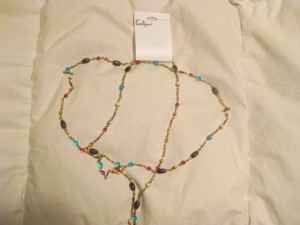 XX1 necklace for $6.80. I can't find the exact one online, but there are tons to choose from online.
Bought some flats from Capezio!
… and a couple of things at Sephora. The bigger box is my freebie for my Birthday from Sephora! If you sign up for their Beauty Insider card, you'll get a freebie on your birthday too, no purchase necessary.

The other day. Literally, like two days ago. I told the Boyf that the city we live in (tri-city pop. 500,000) feels soo huge because I never once, in three years seen my co-workers on the weekends. Then, at the end of my shopping trip in Toronto, I ran into one of my awesome climbing friends who lived in Newfoundland then moved back to her home city: Toronto. I wanted to squeal, but held in my excitement and we jumped into each other and gave the hugest hug ever! How random was that? I wish I had thought of taking a picture. I was SO happy to see someone I knew up here! So so random!!
I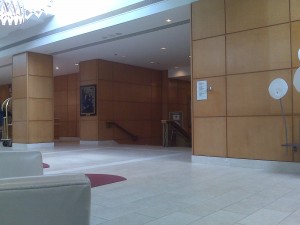 had to jet as the Boyf was done his Jays game and wanted me to find a side street so he could pull over instead of stopping on a major road like Queen or something. So I walked over to a hotel and sat down while he drove down to get me. Oh, it was heaven sitting down after 5 hours of straight shopping.
This weekend just flew for me. We went to two extra obedience classes with Alfie since last week. His final class for Level 1 is tomorrow. Hope he passes! haha. Though he aced his "down stay" for FOUR MINUTES without budging.  The end was a jackpot for him. He got a butt load of treats for that one. Good little guy.
How was your weekend? Do anything exciting? Now, I have to catch up on my google reader. I'm subscribed to too many blogs I think. I may end up hitting "mark all as read" for the first time ever.
I am so. tired.
Night!