Okay, so plans have changed for this weekend and probably put off til next. Yawn!!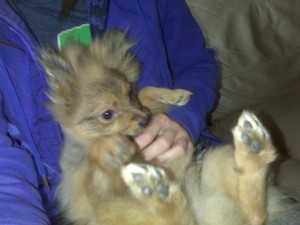 So we're just hanging out as we watch some teeveeee. He's content as long as you're paying attention to him and he's up in your arms. Adorbs. Doesn't he look like a little lion? Can you believe there's only two more classes left of his "Level 1" Obedience School? I'll have to get some graduation invitations to send out for completing it, bahhaha…I'm not serious by the way.

P.S: You have a few more days to enter my contest to win a High Sierra backpack!