I can't believe it's Thursday. I thought it was Wednesday and the week is just flying by. I'm feeling stronger than ever at CrossFit and I'm not being a wussy when it comes to the WODs. I'm givn'er and lifting heavier! Guess that month off was successful for my muscle building and now I'm just getting better.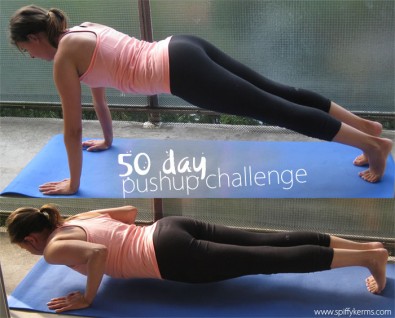 I'm going to end up starting the push up challenge again shortly. I don't know what's stopping me from even starting but I'm planning on it in the foreseeable future. Ha! How's that for a vague answer. I ended up doing the 50 day push up challenge on my knees last time, and next I want to start doing them off my toes. Elbows in. The "tough" way! I saw a vast improvement on my performance at CrossFit when I did them, so I want to keep that level up.
Lately I've been like a starving horse. Feeling very hungry at work, and I figure that I really need to start bringing much more snacks in with me, to work so I'm not going to a vending machine or eating my emergency candy. Yes, I have a secret stash at work. Shh. The Boyf doesn't know, but I'm sure it doesn't surprise him. It's dwindling. The candy stash, not our relationship lol….uh.
Here's a random photo of us in the elevator.  Just because this post is lacking some visuals ;) Totally broke that BlackBerry case awhile ago. On case # 3 now. Oops. Hey, at least I'm not on BlackBerry #3 right?
Want to see something cool that SportChek shared with me the other day via e-mail? Check out this video
Think that's going to be the way retailers shop, in the future? Pretty wild right?  In fact, if you're in the Toronto area, this store is actually opened as of last week and it's located at 2529 Younge Street. I google mapped the location and it's 7km north of the Eaton Centre to put it in perspective. Hop on a subway and you're there in minutes.
Neat features of the Retail Lab:
Tile, Tablet, Touch and NFC Screens:Â  With 140 digital screens installed throughout the store, it features Samsung displays with ultra-thin borders, touch technology and near-field-communication (NFC) capabilities allowing for personalized content and greater customer interaction with merchandise.
Shoe Wall Innovation: adidas has installed its first permanent digital shoe wall in Canada; Nike has installed its first Nike Shoe VJ Experience in the world; and Reebok has installed a customized, 'build your own Reebook' kiosk.  
Medical Motion Dynamic Gait Analysis:Â Customers walk or run on a gait analysis treadmill, while being monitored by trained Sport Chek associates who can then recommend the perfect shoe.
What has everyone been doing to strive for YOUR better? What challenges are you hitting? Tell me in the comments. I'm sure it's difficult getting into a routine again after the nice Christmas holiday break. Sure was for me – you guys know I took a month off for no real reason. I just did. I suppose my body secretly needed it, and I listened to it. Now I'm feeling a ton better, especially now that I'm taking vitamins and exercising more.
Oh oh! Don't forget to submit your Triple F Friday posts to me by tonight's end! Just shoot me an e-mail to spiffykerms@gmail.com. Just include any of the following:
Your name
Your URL, if you have a blog
Description of you being Fun, Fit or Fashionable
A photo, which is optional of course
See ya tomorrow for the last post of the week! :)