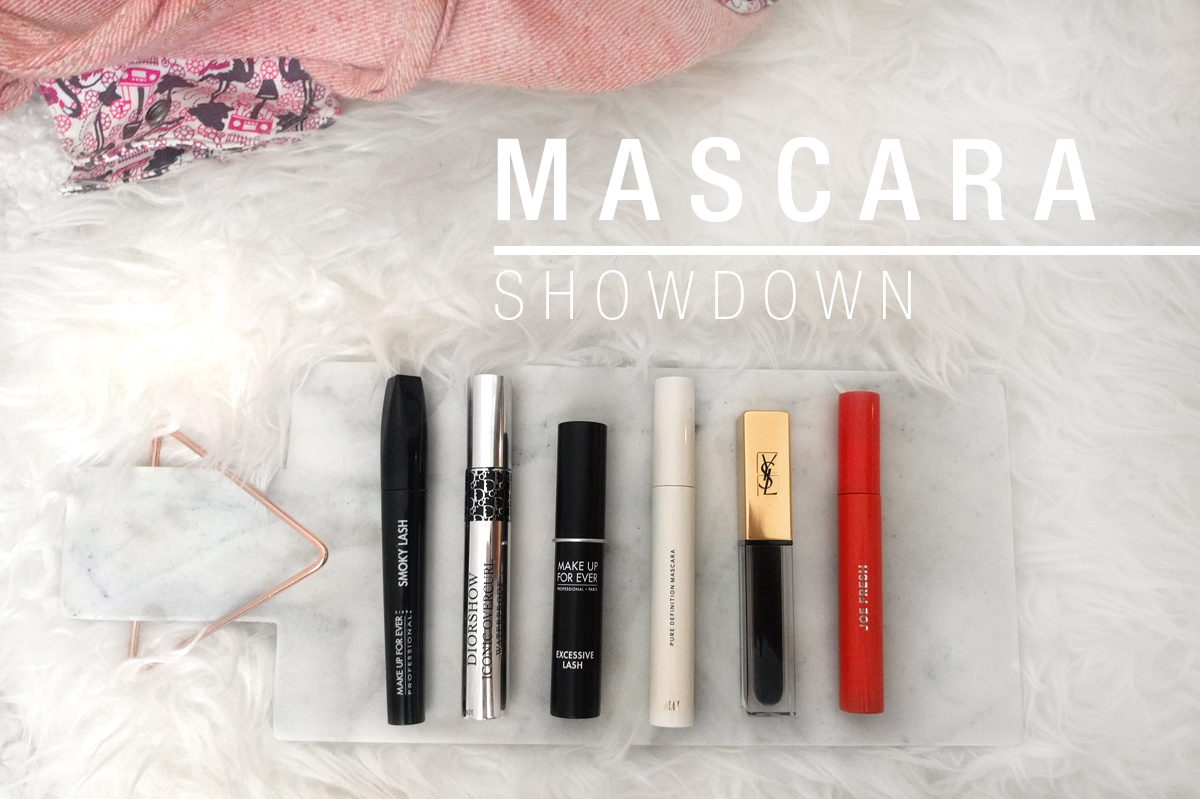 If there's anything I don't need with finishing off my makeup, it's definitely mascara. I don't know why, but it's one of my two favourite makeup items to own/purchase. That, and of course my ultimate favourite: bronzer. As a little girl, I use to flutter my lashes at my parents friends who came over. They always complimented me on my eyelashes, and to this day when I don't wear mascara people still compliment the ol' lashes. K, is that weird? Enough about that.
I guess I enjoy mascara because when I do wear it, it almost looks as though I am wearing false eyelashes. To an extent, I suppose. So I thought I'd combine a few of my favourite mascaras into one post, and show you before and after photos of each one and let you be the judge on what one is your favourite.
Left-Right: MAKE UP FOR EVER Smoky Lash | Dior Diorshow Iconic Overcurl Waterproof
MAKE UP FOR EVER Excessive lash (new!) | H&M Pure Definition | YSL Vinyl Couture | Joe Fresh
I don't always go for a dramatic look with my mascaras, but I do prefer one's with a bristle wand as opposed to a plastic wand. I tend to go for mascara formulas that are dry. I can really work my mascara into the root and create much more volume that way, than if it were a wet formula (I find wet formulas clump easier). Let's jump on in.
For reference, the photo above I'm not wearing any mascara.
(Click it to enlarge)
My thoughts on each one.
DIORSHOW Iconic Overcurl (Waterproof). This is a recent-find for me in the last year. I don't tend to go for waterproof since it's difficult to remove at the end of the night. But lordy, I love the volume, the length, the size of my lashes! And it holds a curl all day.
YSL Vinyl Couture. See my blog post on this mascara here. It's fantastic. It's new for Summer 2016 and comes in all sorts of fun shades that I would probably not wear. Neat packaging making it look like a gloss.
Joe Fresh. The least expensive of the bunch, but still packs a punch. Hey, look I rhymed. I like this one for everyday, too.
H&M Pure Definition. I use this on the days that I don't want to overdue it, but still want a little something on the lashes.
MAKE UP FOR EVER Smoky Lash. A tried and true product. A holy grail. I'll never go without, and I hope they never discontinue it.
MAKE UP FOR EVER Excessive Lash. A new mascara from MAKE UP FOR EVER, I was really happy with how my lashes turned out! It gives a similar look to the Smoky Lash but without trying too hard.
Disclaimer: I was sent the MAKE UP FOR EVER Excessive Lash from PR, as I requested it for this mascara showdown post!