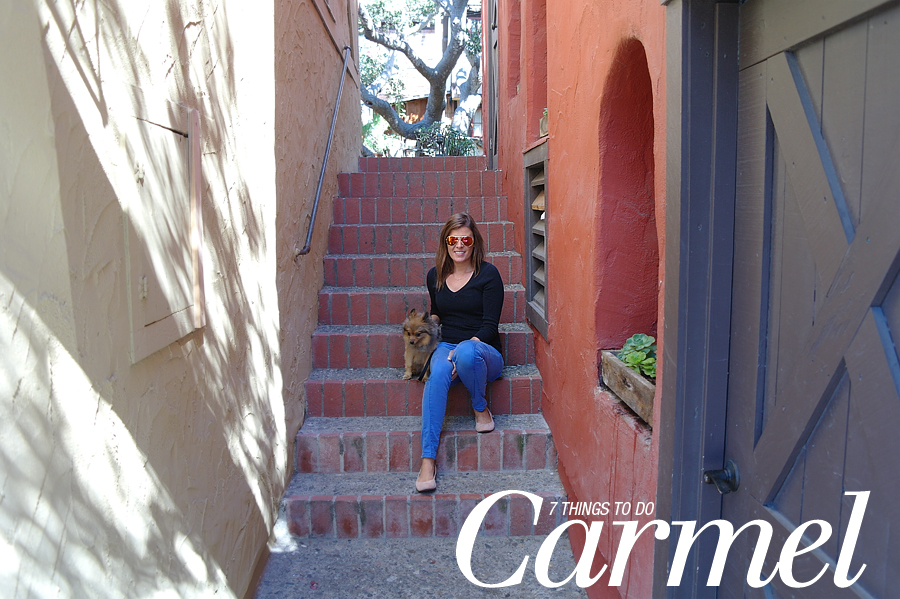 We had a major plans to fully relax and evoke in everything our weekend getaway to Carmel had to offer. Temperatures when we visited (October) were perfect. Ranging from 20-28°C/70-80°F during the day and  10-18°C/50-60°F at night. You'll want to pack your sweaters for the evening, and don't forget that it's best to dress in layers. When we were walking around downtown Carmel, it was warm, however close to the beach was breezy and a little chilly.
With houses that looked straight out of a fairytale, many each with their own house-names; we found one called Carmelot, and another Hansel & Grettle, pure storybook goodness. Carmel is a seaside village that is full of unique boutiques to peruse through, fine dining restaurants, beaches with sand so soft, with a rugged coastline. I've gathered up 7 things to do if you're ever in the area of the must-see romantic village of Carmel. While we didn't get to make it out to Big Sur, the famous Pebble Beach or take off on the 17-mile drive, these are only stops on our must-see list when we go back.
Point Lobos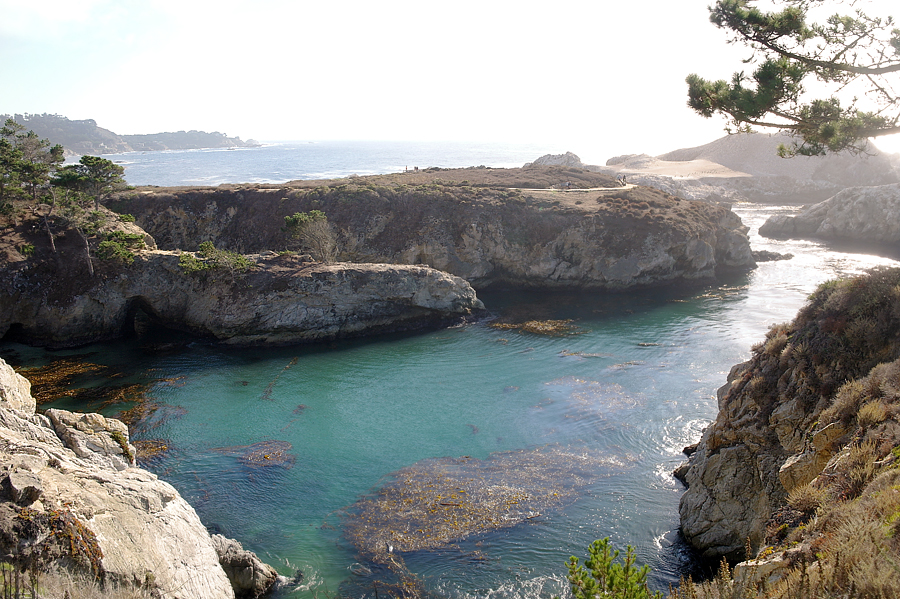 A rocky shoreline, majestic views, crashing waves, breathtaking beauty, all available on this two mile coastline. Perfect your afternoon and bring along a packed picnic to enjoy while you take it all in. Dogs are not allowed in this state park, and be aware – there is poison oak everywhere, we didn't exactly know what it looked like, but luckily for us there was warning signs that included pictures. During our walk we spotted tiny lizards. Luckily we did not spot any non-poisonous snakes that supposedly hang out and slither around the area. Often you'll find whales breaching through, and sea lions at Point Lobos, so keep your eyes peeled!
Explore Carmel
Each day we took a walk through the town of Carmel and admired the architecture, boutique stores, and pet stores where we grabbed Alfie a couple of treats, twice! I love that Carmel doesn't have any street numbers, the signs on the store fronts, restaurants and even gas stations are made of wood. Locals don't receive mail to their homes, instead they gather to the local post office to collect their packages and mail that may come through. A true neighbouring experience. While Carmel is pretty hopping during the day, the town of Carmel is early to bed, early to rise. After supper is over, the streets are completely bare and quiet with total darkness. Be sure to bring a flashlight with you, and don't wear heels more than two inches.
Mission Ranch
Rolling meadows on Clint Eastwood's property which he saved in the mid eighties from condominium development. We kept our eye out on the streets of Carmel hoping we'd catch a glimpse of The Guy's man-crush, Mr. Eastwood.
Carmel Beach
Carmel has a dog-friendly (leash-free) beach at the bottom of Ocean Avenue. A mile and a half of white sand that is so incredibly soft, you can't help but sink your toes in it. The views from the beach are incredible and memorable with Point Lobos at one end, and famous Pebble Beach on the other.
Wine Walk Tours
Carmel Wine Walk by-the-Sea offers a Wine Walk Passport which is a self-paced, self-guided tour to all the tasting rooms that are conveniently within walking distance of one another. The Wine Walk Passport offers a flight of wine of their choice of any 9 of the 12 tasting rooms. Lucky for you and me, the passport doesn't expire.
Dog Friendly Restaurants
With many culinary selections to choose from you'll be sure to be pleased with everything Carmel has to offer with regards to eating out. Don't leave your pooch at home, bring him/her with you as many restaurants in Carmel and Carmel-by-the-Sea welcome dogs at their outdoor tables and patios. One place in particular: Forge in The Forest offer a dog-menu!
Art Galleries
Fine art line the streets of Carmel, whether you're into sculptures, photography, or paintings (which will forever be out of my price range), there are plenty of galleries to browse through.