As much as this is going to sound sponsored, it's not. I'm very excited about this new-to-me cleaning product.
If I suggest one household product you get your hands on, it's this container of Bar Keepers Friend.
I first heard about it through an old co-worker, in fact it was Julie's Mom (Hi Barb!!!). I was over to their place for supper one night before we left for California and I noticed that all of her pots, pans, and sink looked immaculate and in mint condition as if she had just purchased everything new. I decided to wait to purchase the canister of miracle powder when I arrived and settled away in our new home in California, because who really wanted to pack one more thing in a box? Certainly not I.
Luckily for me, I spotted Bar Keepers Friend (BKF) when we went to grab a ton of groceries at the two story Target. I know. Two stories. Insanely good. I don't know how much the powder retails for in Canada, but I thought it was around the six dollar mark. At Target here in the states, it was two bucks. Sweet. Thanks for letting me save my pennies, USA.
Anyway. Let me show you how wonderful this thing is. I was way ahead of myself and scrubbed every pot I had in the house. Unfortunately I forgot to document it all until I got to the last tiny pot and scrubbed it a bit. Then stopped and took some photos to blog about. Here's the pot.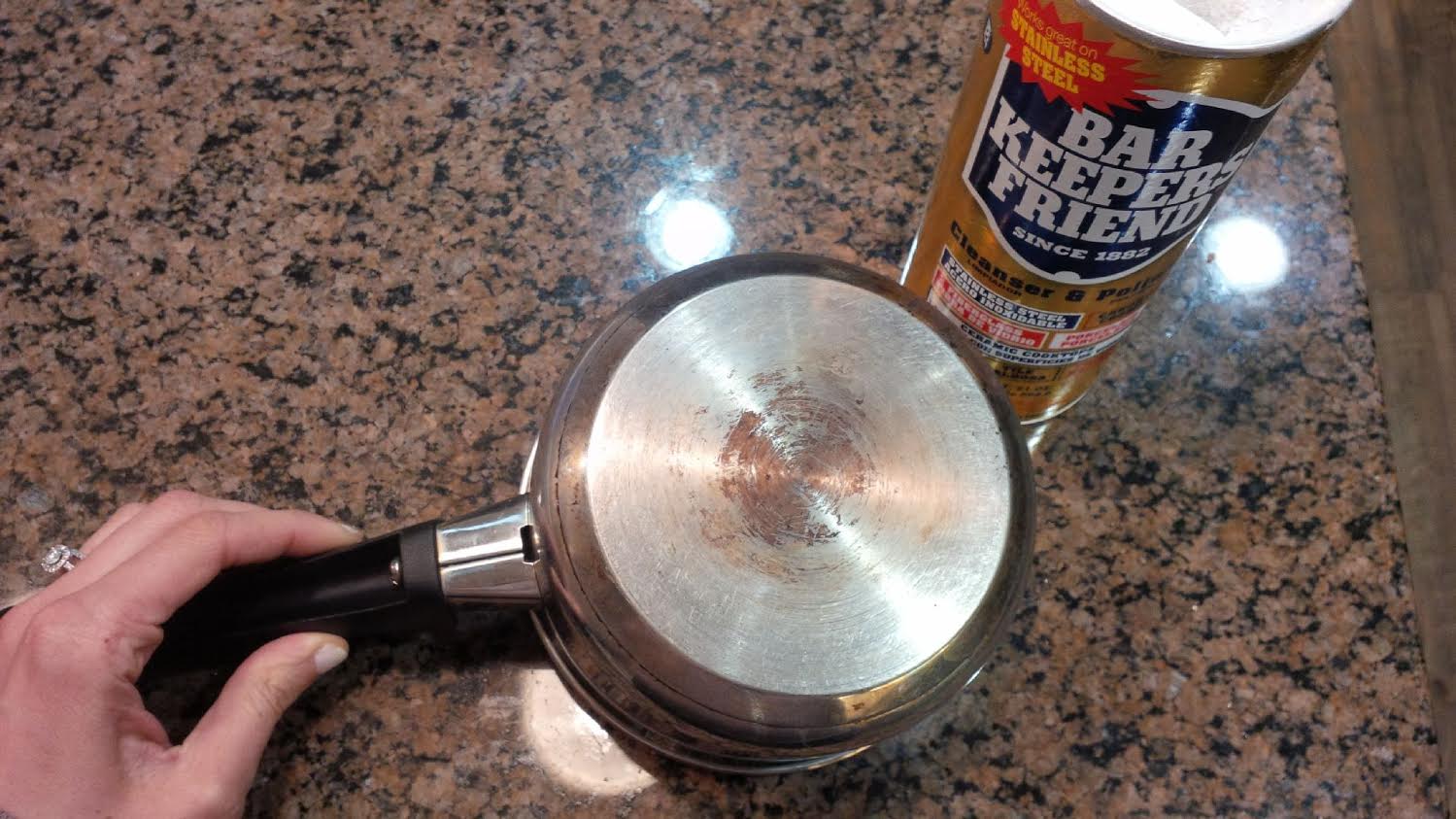 Dampen your stainless steel item (pot/pan/sink)
Sprinkle a smidge of powder onto stained item
Rub stains away with a sponge
Rinse item thoroughly and towel dry
You need just a tiny amount.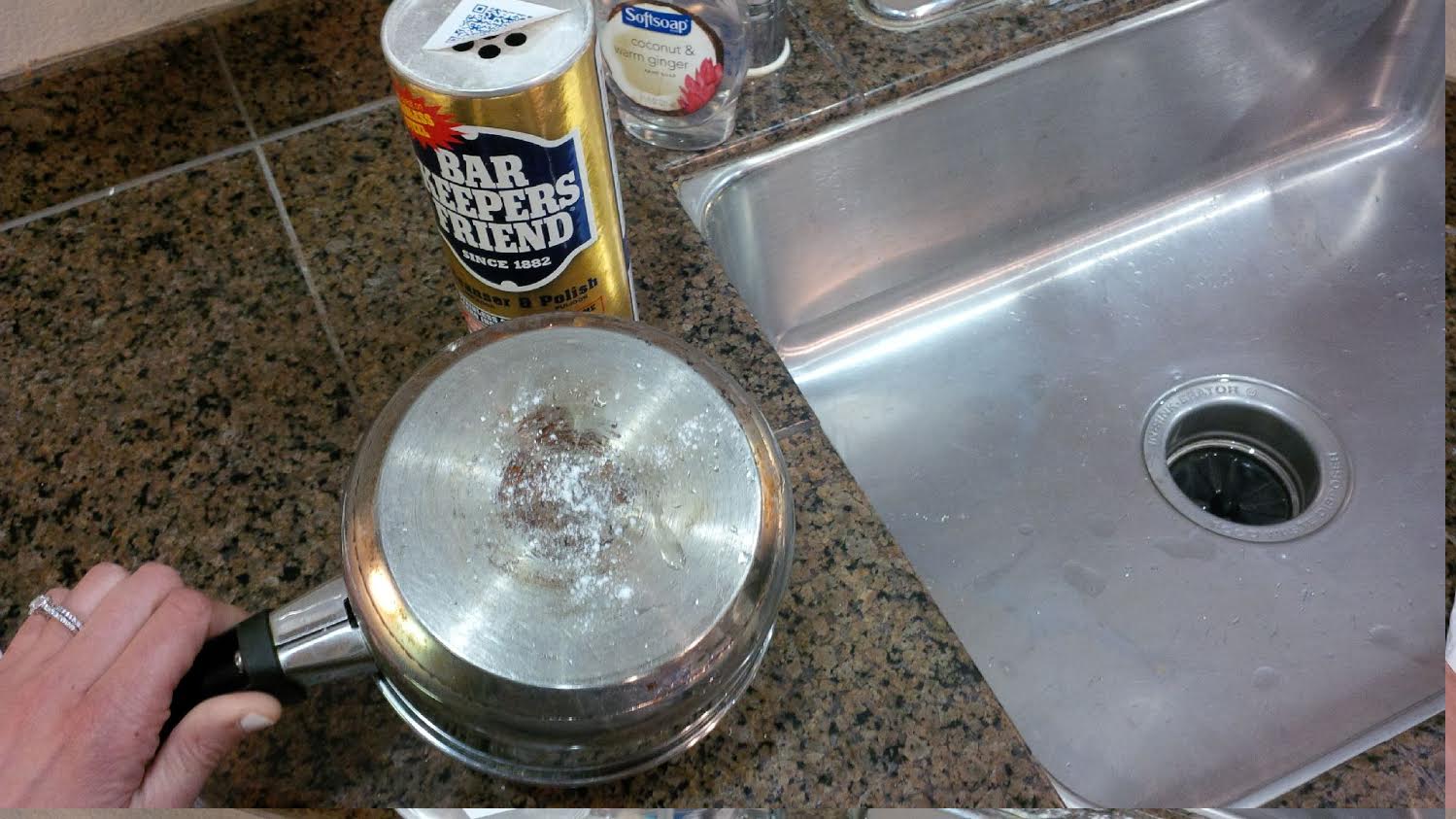 Make sure both the pot, and your scrubbing sponge is wet, and whisk that dirt away. Sounds like such a commercial.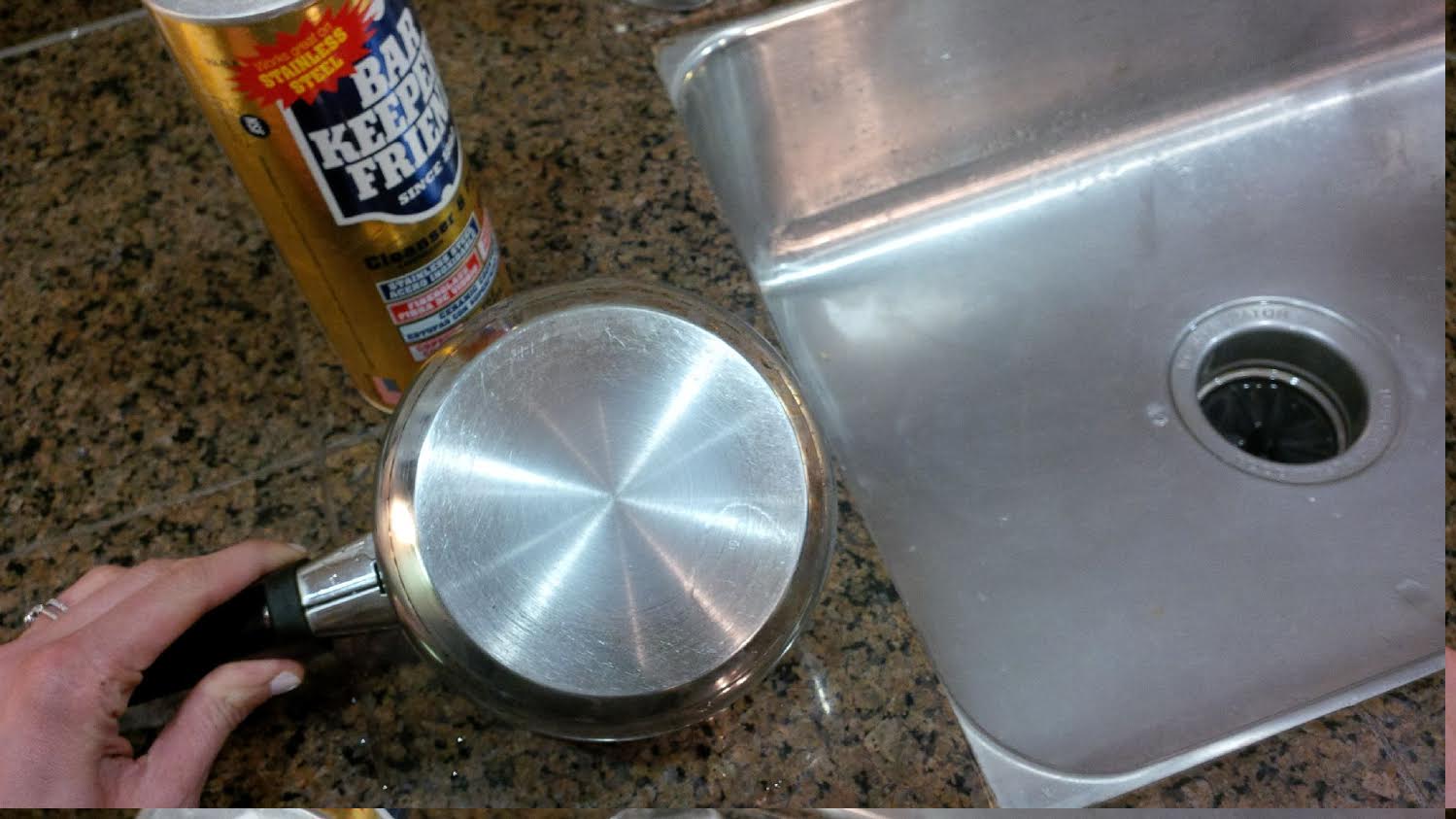 Look how friggen clean it got.
It literally required no elbow grease. I was on the verge of getting rid of a few pots and pans because of the discolouration and thought they were on their way out. But they honestly look like brand new now that I've given them a little love. In fact, I love the darn powder so much that I've been cleaning the kitchen sink every night after supper. I can't stand to see water spots or anything on it now. Oh how times have changed.
I've been using BKF in and around the bathroom too. It works well on the toilets, and sink. Haven't cleaned the shower yet. We've only been here a few weeks. The powder (and other forms of the cleanser) also works on cooktops like our ceramic top oven. I haven't been brave enough to try it on that yet, but I may. There's a few water stains or maybe the oven top is just "worn out" and I'd like to get it back to tip top shape. If I do happen to get the stains out from the stove, maybe I'll blog about it.
Bar Keepers Friend retails for $1.99 at Target. And probably a lot of other stores.