Back in May, Kiss Me Organics contacted me asking if I'd like to test out their matcha green tea. I'm a big orange pekoe tea drinker, and have been known to consume more than 1 cup a day. However, I'm not into the green tea as much. But their PR contact informed me that there's much more things to do than just drink it. There's a ton of baking, cooking and drinking recipes floating around where you can use powdered green tea — including MEAT. I know.
I rarely bake, and if I do it's blueberry muffins. I stuck to a more simple task, putting it into our morning smoothies.
I sorta made the Berry Good Morning Smoothie from the Organic Matcha Green Tea Powder's PDF recipe book (page 19). But I implemented my own berries and fruit. Inside this bad boy for two: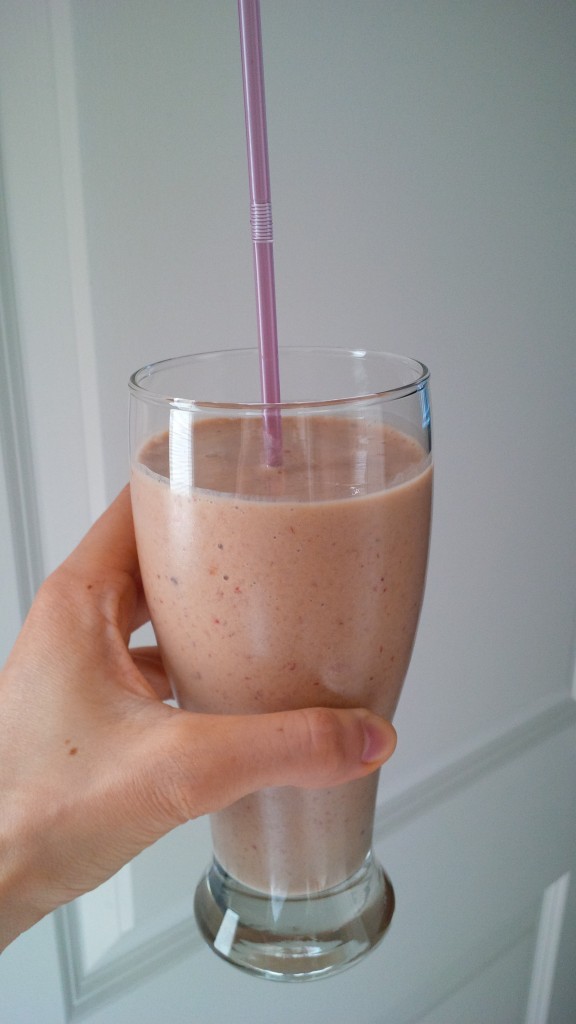 1 banana /// 6 strawberries  /// 1 peach  /// 2 heaping tablespoons of nonfat plain greek yogurt 
1 tsp matcha with 2 tsp of warm water (to mix the matcha)Â  /// ice cubes /// skim milk
When I'm not using any powders in our drinks, I usually opt for putting in a few dashes of cinnamon, a squirt of agave sweetener, a dash of vanilla extract and a tiny bit of unsweetened cocoa powder.
A lot of these products I'm reviewing are impractical for me to keep purchasing and using each day. It's not something I'm willing to spend my money on at the moment. The matcha green tea retails for $30, and the skoop I reviewed the other week, was twice that amount. I'm not sure I'd be noticing a significant amount of change in energy, or feeling overall wellness. I think we'd skip out on this if we were to purchase it ourselves. But luckily, I'm here to try a few things out on my blog, and give my full honest review. I know tons of people who LOVE this stuff, and I've already gave my 2nd package of the Matcha Green Tea Powder I received, to my climbing buddy, Ellen.
I haven't tried making green tea with it yet, because I can't simply say no to a cuppa orange pekoe over the green tea (yet). But apparently Matcha Green Tea contains more than 137 times the antioxidants found in a cup of brewed tea. Huh!
I have a bag of Matcha Green Tea Powder to share with one of you guys. Enter using the Rafflecopter form below, telling me how you'd mix yours.
Giveaway is open to residents of USA + Canada.