Okay, first things first. I want to get it out there. Dior nail polishes remind me of Sally Hansen nail polishes. Yes, absolutely and completely. I've never been a fan of the other drug store polishes (OPI, Essie or China Glaze) besides Sally Hansen, and the reasoning behind that is their brushes were just too flimsy and narrow.
Except this isn't your ordinary nail polish. The past few weeks I've made two separate purchases of Dior nail products. One of them being a Gel-Effect top coat. It's like shellac, you apply 1-2 coats every 3-4 days and it gives this incredible shellac-like shine. At home manicure? Saves me the dollars, that's for sure.
Now there's more colours besides the clear top coat I own. 14 new colours to wear!
I'm new to Dior polishes, so I was surprised to see the shape of the nail polish brush be rounded and quite wide. Easily coating your nail in just a few sweeps. This is a big deal to me, since I feel like I'm a child trying to colour inside the lines only to mess up and get it all over my skin. It's a process, painting my nails. But I'm slowly getting better at it.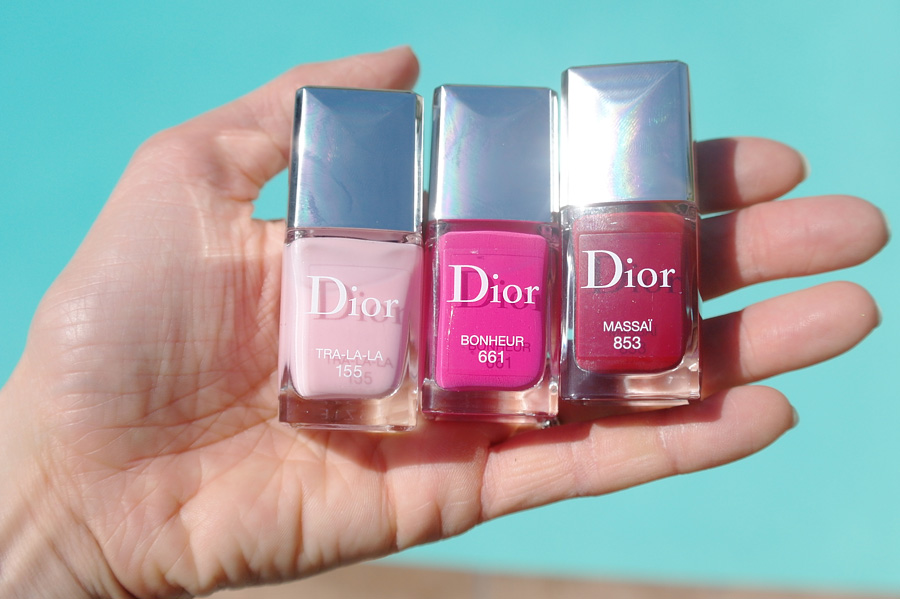 155 Tra-La-La, 661 Bonheur, 853 Massï
These are the three polishes Dior sent me from their new collection. When I first opened them up, Bonheur reminded me of the colour I received not too long ago from the Dior Spring Collection in the shade Bloom. They are slightly different though. Seeing how the ones I'm showing you here today are a completely different formulation. Shiny like glass. As for longevitiy of the polish, nothing lasts longer than 3 days on my hard working hands. But if I keep applying the clear Gel-Effect top coat to my nails every few days, I can push my at-home mani a little further. Then it starts to crackle like shellac, and it's time to do the process all over again.
How is the formulation?
Without a base coat I applied the colours.  Tra-La-la, the light pink required three solid coats of polish to secure a fully flawless creamy nail. Bonheur, and Massaï were fine with just one or even two coats.
How they look on the nail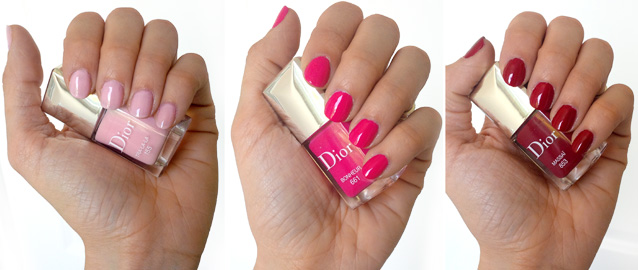 155 Tra-La-La, 661 Bonheur, 853 Massï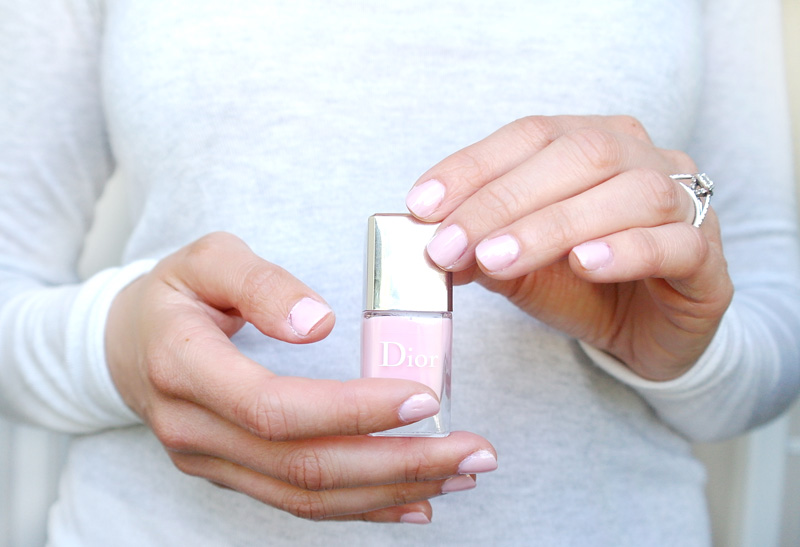 My ultimate favourite colour by a landslide is most definitely the colour 155 Tra-La-La. It's got a sweet, feminine feel to the polish and it kind of makes my hands look tan somehow. I'll take it.
Dior Gel Effect Couture Nail Polish ($26CDN) is available at Dior counters nationwide, and TheBay.com. Sephora will be receiving them in May. But you best get your arse in gear if you want any of the colours I've shown on the blog. They're awesome and will probably sell out.
Disclaimer: The Dior nail polishes were sent to me by the PR team. I never do paid posts/ads in exchange for product review. That is not honest. Opinions are my own, I'd like to keep it that way, since I like tellin' ya how it is.