I woke up early this morning angry that my alarm didn't go off. It was 7:34, I had "slept in" and I was going to be late for work! All my mumbling in the morning as I rushed out of bed and did a few things I remembered it was Saturday morning! Hallelujah.
So, I took it upon myself to get some early morning me-time in before I had to help my boyfriend pack up my car. He's taking it and driving up to Muskoka to do another race: the 70.3 half ironman which he'll be competing in tomorrow.
My me-time consisted of a little micro exfoliating treatment. Hello facial therapy.  It had been about 2 months or so since I treated my skin to a nice deep scrub (see my review last summer). It was well worth it and I even made The Boyf feel my face afterwards.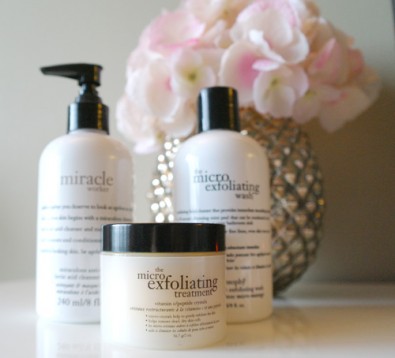 Friends know I usually have popcorn for supper, when my boyfriend is away. But I think I'm coming down with a little cold, I'm feeling very stuffed up. I was actually craving a club house sandwich for lunch. I didn't have any of the ingredients (no tomatoes, no lettuce) so I decided to just improvise.
Can you guess which bread is mine, and which is The Boyf's? He likes to carb load before races and I'm still trying to not eat as much carbs.
I liked the Dempster's THINS buns so much I tried last week, and I decided to venture out and use my last free coupon from Dempster's to pick up a new package and try out their THINS bread. Don't forget about my giveaway I'm hosting! You can win yourself some free coupons to try it out for yourself too.
The ingredients for my chicken salad sandwich. All finely chopped was some chicken, bacon, mushrooms and red peppers. The sauce is this amazing aioli (fancy name for mayo) that I always buy at the local health food store. It has a lot of fat content, but I love it.
I ended up making your typical 3 bread layer sandwich and toasting the bread slightly. Then once it was all assembled with spinach on either side of the bread I took way too long taking some snaps for the blog post.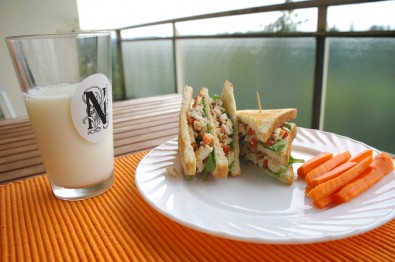 The great thing about my sandwich was that it wasn't too huge. You know those absolutely massive BLT sandwiches you get at restaurants you can barely open your mouth wide enough to take your first bite? They should start using the THINS. It wasn't too thin that my aioli sauce soaked through, and definitely held up. Sturdy bread if you will.
Pour yourself a tall glass of skim milk, chop up some carrots and you've got yourself a hearty lunch.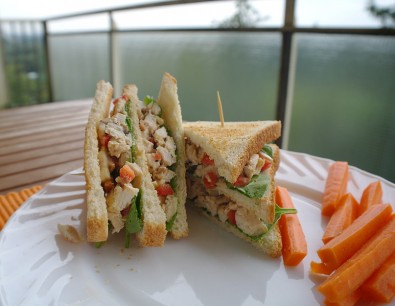 Need to pack some lunches for your kids in their second week of school? Sandwiches are the easiest, and can be so diverse if you put your mind to it. Check out the two sandwiches I made the Boyf and I last weekend using similar bread.

Also remember that there's a twitter party happening on the same evening that my contest ends (September 10, 9pm EST). Join Twitter to party and #WinWithTHINS with over $1,000 in prizes up for grabs! Just follow @Dempsters for all the details and they'll have a special prize for you if you can make it there!
I'll see ya next time! I'm off to do a bit of online shopping :)