Between my facial yesterday and my manicure today, all done at home — I'd say I'm doing pretty well don't you think? All ready to start fresh tomorrow on Monday morning.
I go in between stages of having my nails manically manicured from week-to-week to going a month or two with cutting them as short as they can go and have them rough and ragged looking.
Just like my palms (this is what they look like on good day). Go ahead and call me man-hands. An ex-boyfriend of mine used to call me lizard-hands. Stung the ego a bit I have no complaints. It just means I have strong hands yet dry and scaley. I've come to the fact that I'll never have dainty little girly soft hands.
I've been told a number of times that my secondary muscles are stronger than my primary ones. For instance, a few years ago I couldn't do a strict pull up on a bar. Translation: my fingers are stronger than my forearms/biceps. I could pop out 7 chin ups on the door frame. It was my party trick.
Video for proof (from many years ago):

Thanks to CrossFit I can now do it both ways. Strict pull ups and chinups on door frames.
I always have a hand cream readily available for applying on my hands countless times in the day. My hands just won't keep in the moisture. So sometimes I like to sit down and pamper myself with an at-home mani.
My favorite nail polish? Hands down (ha…) Sally Hansen polish.  I just love the polish quality and the brush is such a great shape which you can purchase on Nail Polish Canada. I'm not really one for stand-out nail polish on my fingers as I reserve that for my sandal wearing sporting a nice tan to show off the lil piggies.
I had all the tools ready.
Soaked my hands in some warm water with soap
and polished my fingers with some pale neutral pink. I think it's time to soon retire this polish. Half way gone!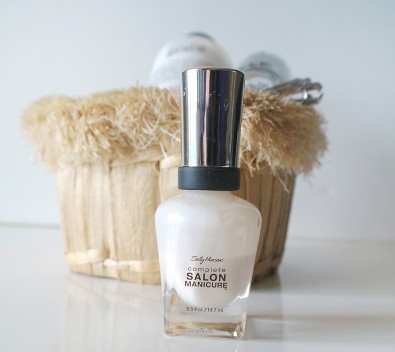 All cleaned up with a coat of paint.
I used the Seche vite top coat. I have a love-hate relationship with this product. I get it at Sally's Beauty for ten bucks or so. It makes your nails dry pretty much instantly… well, within 60 seconds.  But it gets soo goopy after half the bottle is used up.
How often do you paint your nails?
Do you get manicures/pedicures often?
Ever thought of buying nail polishes online? You can get some great brands for cheaper on Nail Polish Canada's site. For isntance, china glaze is $6.95 over there! Nail Polish Canada is actually in the running to be named the best e-tailer in Canada from the Canada Post's e-commerce awards. They're even competing with Walmart! But I think it'd be more fun for an actual Canadian store to win as opposed to Walmart (no office Walmart).
To encourage people to vote they're giving away DAILY prizes which consists of nail polish and beauty products. Plus. some grand prizes. You can vote every day til your little heart desires from now until September 20. You must record your vote to enter & win at Nail Polish Canada's vote page here.
Bonus.  If NailPolishCanada.com wins Consumer Champion then they're having a huge giveaway with two winners!  // Grand Prize #1: 24 bottles of Enchanted Nail Polish // Grand Prize #2: $1000 shopping spree at Nail Polish Canada.  Prizes are only open to Canadian and U.S. residents. See http://www.nailpolishcanada.com/vote for full details.