Earlier Saturday afternoon I headed in to finally find out the 30 day Paleo Challenge that I completed at my local CrossFit box. There were over 30 people who took the challenge this year and our coach told us that it was a tight race for winning spots this year.
Seven paleo 'competitors' (4 women, and 3 men) made it to the announcing of the winners on Saturday. The coach took the first half hour and explained how he measured everyone's successes and that he was impressed by everyone who took it upon themselves to do this 30 day challenge.
There were all sorts of prizes on the table for the winners and some door prizes to be drawn randomly.
I was starting to get a stomach ache and be a ball of nerves as he was stretching out the time, and not telling us who had placed yet. JEEZE.
Finally he started announcing the females placing starting with third and announced the inches she had lost, and the body fat percentage. It wasn't me. I high fived her for getting third. Then, coach named off second place with her numbers – again, it wasn't me. First place rolls around. He said my name. Then the inches I had lost, the pounds I had lost, and my body fat percentage change. I grinned but inside I was jumping up and down.
I GOT FIRST PLACE! It was a great feeling to put my mind to the Paleo challenge and come out with some great numbers along with some great prizes.
The numbers speak for themselves:
That above is how I did compared to the other women and men in the challenge. Their before numbers (like weight, for instance) was not included for privacy reasons, since I grabbed this off our very own CrossFit website. I don't think many people would like their numbers published.
First place folks ended up getting some crazy prizes. I ended up with:Â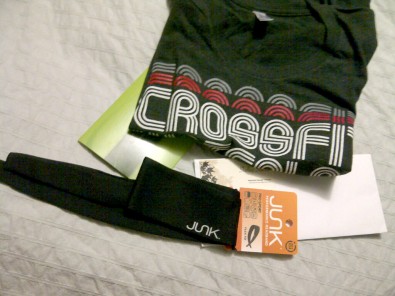 Junk headband (popular amongst CrossFitters and they were at

the Regionals last weekend

)

$100 RMT massage with a girl who I've known at CrossFit for a few years

a CrossFit tee

$100 gift card to the local mall
Awesome hey? A few people at my CrossFit gym were asking how I did so well considering I'm already "so small". I wasn't kidding around when I told people my belly was the same size as my boob size from the start, that and the fact my diet consisted of a lot of candy, McDonalds and soda.
Everyone had to keep track of their food log which also had my sleep schedule, workouts for the 30 days, goals we wanted to achieve, the water intake at each meal, and the exact time I ate.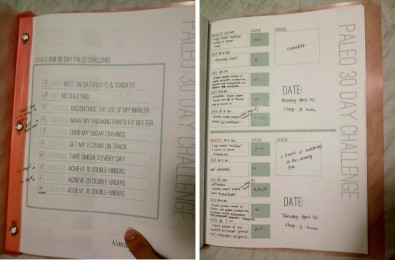 It was pretty precise and I was so meticulous about carrying it around everywhere I went. Every. Where. I swear if I worked at toyotaparts.com toyota parts they'd love me for making such a detailed book of my entire month. It was nice seeing Coach C write a little bit on the back page for me: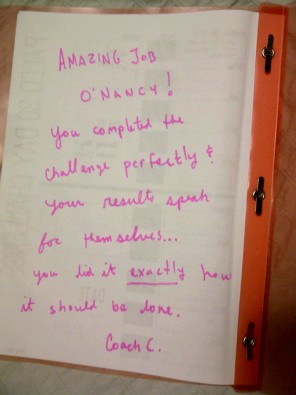 Hard work pays off.