This was a difficult post to solidify into words. When creating my outfits to wear to work, I also accessorize and decide what shoes I'm also going to be wearing with the certain pieces.
If a certain watch doesn't go with the item I thought worked, I pick another one. It's as simple as that. I don't think there are any rules with fashion, and what you should/should not wear. So here are some very light guidelines that I've laid out for myself. Basically, if it looks like you put some thought together into what you're wearing, including the watch — it looks great. Bottom line, a white watch like the ceramic Skagen, you can wear during every season. It can look striking if coordinated with what you're wearing.
White watches for instance, especially ceramic you can wear all year round. I have both black and white watches but I gravitate towards the white more so in the winter, I think it's a sharper look in a colder climate.
I've accumulated some arm candy and love to mix and match different bangles and bracelets with my watches on a daily basis. Here are some of my favourite creations on how to style Skagen watches:
New trick, doubling up scarves to make a completely different look. Polk a dot + leopard. Looks neat right? The claw ring was from eBay ($0.99), and the two bracelets were from Etsy. Isn't the watch a beaut? I've been posting it on Instagram and twitter lately, and everyone's been loving on it. It's from The Watch Co.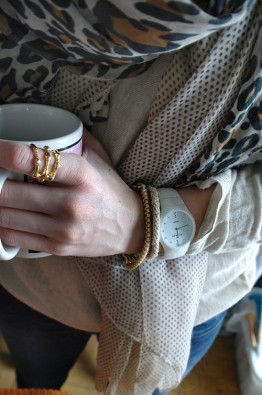 This combo shouts spring to me. Fun playful shirt with some inexpensive accessories. The ring is from RW&Co, the purple bracelet from Ardene and the cloth purple hair tie (hard to see) from Sephora.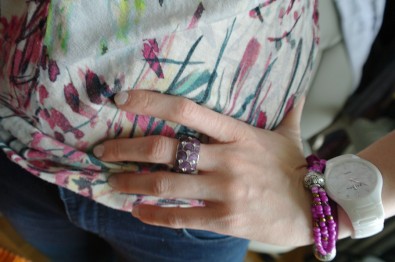 I like to call this a preppy look. I love pairing expensive with inexpensive, to make it look chic. For instance the jeans were from H&M, belt (on clearance for $1.94!) and white sweater from Joe Fresh, the orange bracelet from Etsy, and rose gold bracelet from H&M last summer.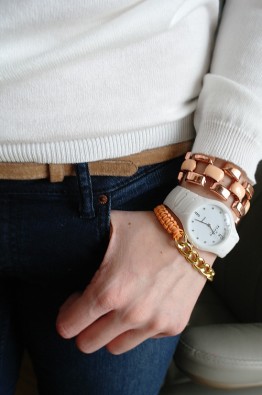 This is an outfit I wore to the mall the other day. Everything kept pretty neutral. Paired the Skagen watch with rose gold accessories.
Urban hippy. That's what I'm going to name this photograph. I was eating breakfast and thought I'd take a snapshot of what I was wearing and liked the outcome. Sweater is from H&M and was purchased last week, the wooden bracelet is also from H&M, and the one behind it with turquoise rocks poking out was a gift from my cousin who visited Thailand recently.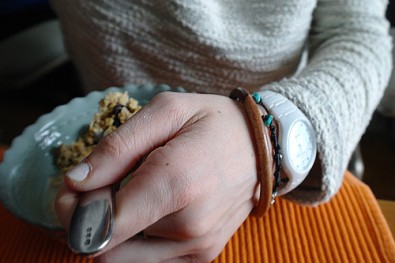 I've been on a rose gold or gold wearing kick the past year. Recently I noticed that I didn't have any silver bracelets to pair with my new Skagen so I went scouring eBay for some deals and found these David Yurman knock-off's. The one that looks like rocks was given to me by my co-worker. The ring is from an independent store in my local city. The purse was bought from ASOS online in the fall.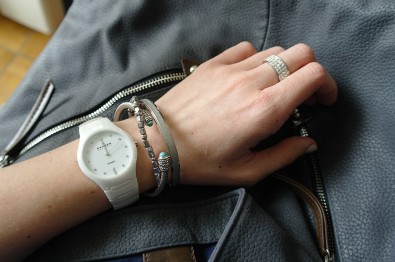 Finally, I've added a little splash of colour with this watch pairing. The red bracelet is from MaeMovement and the white bracelet next to it is from H&M, as is the blazer peeking through the photo.
Since you probably didn't get the hint that I like pairing bracelets and rings with my watches, here are the other one's I own. You know, in case you want ideas on how to style other types of watches:
Top row, left to right: With white watches I feel you can play so much more. Here is my Fossil stella paired with some bright fun coloured bracelets which add a pop of colour. Keeping things classy with black on black on the top right image.
Bottom row, left to right: This is my favourite combination. I wear this trio shown above more than any other combo I've created. Love the brown and rose golds. As you can tell in most photos, I like to keep it pretty natural, and stick to mostly neutral colours. I try to steer clear of trendy watches, one being the Rose Gold trend that has been going on for a few years. I wasn't sure how often I'd wear that colour of a watch, so I ended up purchasing mine on eBay last summer for less than $30. So far so good!Or you can wear your watches plain, to blend in with the clothing you're wearing (see bottom right). Minimal yet smart.
If you want more ideas on how to style your watch, go here for some great visuals.
Lastly, I like to keep my watches in top notch shape. Watches are so easy to clean.
How to clean ceramic (and resin) watches:
Wipe over the watch with a soft cloth to remove any loose dust. Sometimes I use a q-tip and toothpick.
Spray the cloth, not the watch directly with window cleaner or water. (My preference being water).
Wipe gently and then dry with a clean soft cloth.
Simple as that. Ideally you could store them in a dust-free case. Whereas mine are right now being put on display on my dresser. I wear them enough so they don't collect dust.  But if you don't wear wrist watches often, I would put them back in their boxes or a nice decorative tin.