Can it be Christmas time already? I'm patiently waiting here.
Fun fact: I used to wake up on Christmas Eve morning hoping Santa came early to our house. He never did.
While the Canadian thanksgiving feels like forever ago, the American one is coming right up. I feel like I should get ready to put my winter snow tires on, and wake up one morning with light white fluffy stuff falling from the sky. I promise I'll only like it the first few snow falls, then I'll get over it in a hurry, wishing I was basking in the sun, somewhere down south.
As you can tell, I'm so ready for the holidays. I put up my adorable (yet huge) nutcracker, and miniature (how fitting, right?) glass Christmas tree up at work last Friday. Oh, and I have most of my Christmas presents purchased already, with the exception of a few family members. Did that just make you sick? Sorry. I shop all year round, and keep a list of what I want to buy, or what I have already purchased in an e-mail draft in my Gmail account. I. Know.
So all of these holiday collections are coming out, and Make Up For Ever is just another one with some fabulous products to buy for yourself, or get for a girlfriend. Of course, it's limited edition and the great part about that is it's usually cheaper to buy the kit than it is to buy everything individually.
Make Up For Ever Holiday 2012 All Eyes On You is sold at Sephora for $65 CAD / $59 USD.
The All Eyes On You kit includes a lot of the top selling products by Make Up For Ever, including my very favorite mascara of all time. All. Time. you guys. Smokey lash. I think I picked up three extra's at the last Sephora VIB 20% off days. THREE. As in back ups. I'm good for a year now. Have you not tried it yet? It'll make your eye lashes about 4 inches long and people will ask if you're wearing falsies.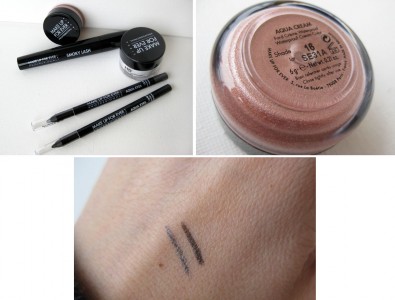 This set contains:
HD High Definition Powder ($18 CDN)

Aqua Cream in 16 Pink Beige $26

Aqua Eyes Waterproof eyeliner pencil in Mat Black 0L $20

Aqua Eyes Waterproof eyeliner pencil in Dark Grey 21LÂ Â  $20

Smoky Lash Extra Black Mascara $25
An $109 value for $65. Guys, save yourself the forty bucks and go buy it!
Anyway, I'm not a regular user of eye liner pencils, because I'm lazy in the mornings and I don't see anyone at work but a few co-workers. So when I do get fancy I break out my $6 covergirl twist up liner. The Make Up For Ever one was a comfortable application and I didn't have to go over my eye endless times, and there was no dragging on the delicate eye area. The pencil itself was very soft and I chose to wore the soft charcoal color on this look below.
Before and After. Love the soft pink on my eyelids! Plus, the grey liner is a nice touch on the lash line as it's not too harsh, and very easy to work with as it glides on.

I also filmed a YouTube video yesterday on the re-creating the easy eye look.

Such an easy look to re-create. Just three steps. Apply the aqua cream onto your lids, then add the pencil close to your eyelash line, and add mascara! This is my second aqua cream and it almost feels more silkier to apply. Perhaps my other one is a little dried out now that it's almost six months old.
This is not a sponsored post. I was sent the holiday kit free of charge in exchange for my honest opinion.