Many people have nick-named me Candy Girl. So it's no surprise to anyone, that I have a big ol' sweet tooth.
I'm surprised I don't have more cavities than I do. Surprisingly enough, since I just went to the dentist yesterday to get a check up. Everything's good to go. Until next checkup! Yay free toothbrushes :)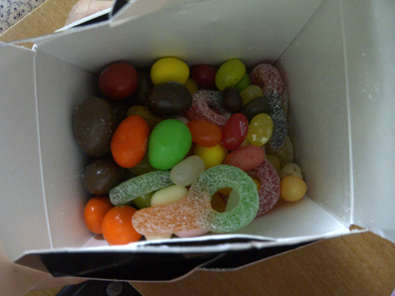 In fact, here is my current candy stash. A wedding the Boyf & I went to while we were home, had a candy bar! Fill up your own Chinese-takeout box. You betchur bottom dollar I filled that baby right to the brim!
Steering away from the unhealthy snacks for a bit, it's good to branch out and not always have bad sugars while sitting at a desk job 9-5. Three Works sent over some dried apple snacks for me to try out.
I didn't hesitate at all. Mainly because one of my favorite fruits are apples. Honey Crisps to be exact. Plus, Three Works is a Canadian company, and I love supporting the locals!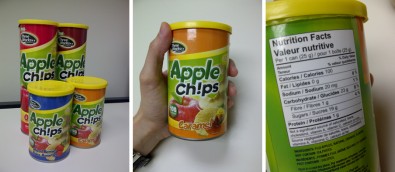 I ended up getting an assortment of four different flavors. Plus, the small tins? The whole entire tin contains just 100 calories! Madness. I'd gobble that thing right up.
When I first opened the package, it was sealed up with one of those paper lids underneath but also in its own little baggie too! This company is taking extra care in their packaging, making sure the apple chips don't get stale, I'm telling ya that right now.
Scrumptious.
First thoughts? It was quite light, and very crunchy.  As someone who used to enjoy crunching on ice cubes (I gave that up, ha ha) it was enjoyable.
These would be great sitting at my office at work, or of course incorporated into school lunches or what have you. I have the caramel one's opened at work, and I'm definitely not sharing. The taste of caramel isn't overpowering at all. Just the right amount, I'd say.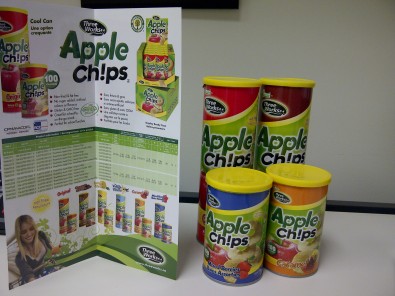 Quick tidbits on Apple Chips:
Gluten Free

GMO Free (no idea what that means)

Non-fried

Fat Free

Healthier than potato chips

They're Canadian!
Three Works Apple Chips are sold in major retailers across Canada including Safeway, Loblaws, Shoppers Drug Mart and Longos.