I hit the jackpot when I came back to work the other week and saw a gorgeous philosophy box waiting for me on my desk! When I opened it my eyes immediately lit up. I was definitely not expecting to receive full sized bottles to review on my blog. Totally blew my mind with that special delivery. I definitely spazzed out in my office for a moment, and may have done a little dance.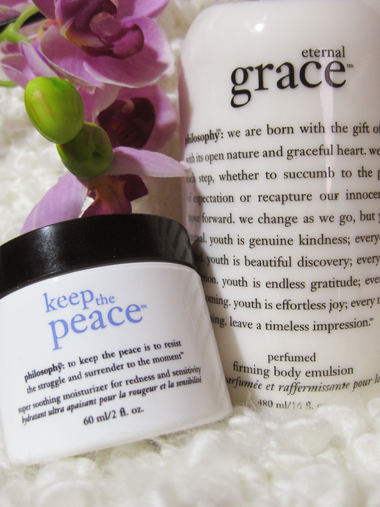 The first time I think I heard of Philosophy skin care products was when Oprah was talking about it on one of her "Favorite Things" episode probably 10 or more years ago. I've only ever tried out samples from Sephora, or other places that give them out.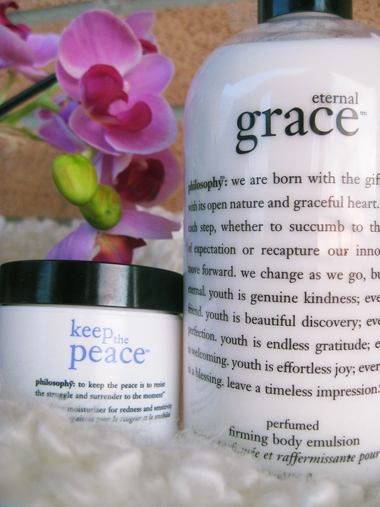 When I headed down to San Diego to attend BlogHer11 I was stoked to see a Philosophy booth set up. That's where the girls and I had our photos taken (many times) throughout the conference weekend.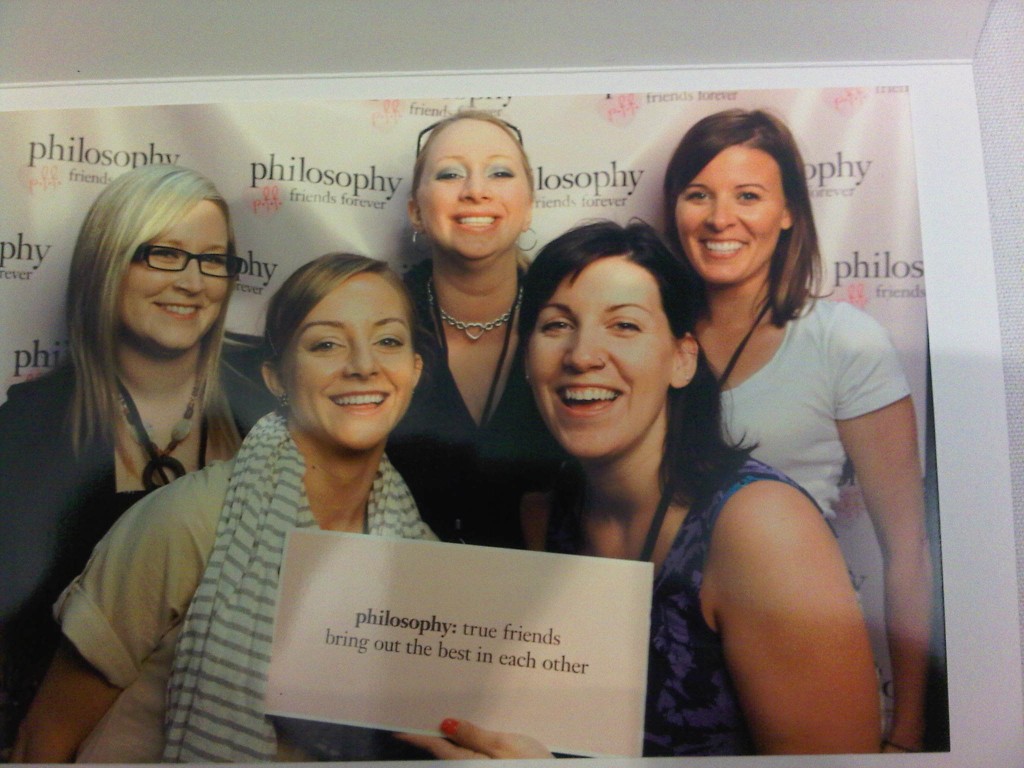 See?
When I got back home, I had a 10% off coupon to head into Sephora and so I went one day after work. When I popped in, I was browsing around and ended up at the Philosophy shelves. A girl came over to me, whom I thought was a Sephora employer, but in fact she was a Marketing Rep for Philosophy! She gave me tons of inside tips (of who to e-mail and where to attend the next Philosophy marketing meetings in Toronto). I told her about my blog and she mentioned that I should e-mail the PR company. Well,   I ended up chatting with the Philosophy PR company and got in touch with a representative that obviously sent some really great creams for me to check out.
I received the Keep The Peace cream, and Eternal Grace firming body lotion. Below are the descriptions taken from the Sephora website.

Keep The Peaceâ"¢ Comfort Cream ($38 2oz)
What it is:
A super soothing moisturizer that treats redness and sensitivity.
What it is formulated to do:
Make peace with your skin. This daily moisturizer contains natural extracts to help calm and soothe redness and sensitivity while multiple antioxidants help protect skin against environmental attack. Its nurturing formula features an advanced barrier rejuvenation technology that maintains a healthy moisture barrier, helping to keep skin hydrated while protecting against future irritation.
What it is formulated WITHOUT:
– Parabens
– Sulfates
– Synthetic Fragrances
– Synthetic Dyes
– Phthalates
– GMOs
– Triclosan
Eternal Graceâ"¢ Firming Body Emulsion ($34 16oz)

What it is:
A perfumed, firming body emulsion.
What it does:
Infused with the youthful, uplifting scent of Philosophy's Eternal Grace fragrance, this firming body emulsion is designed to leave you feeling forever young. Eternal Grace Firming Body Emulsion is enriched with natural oils, such as olive and macadamia nut oils, to help soften the skin and aid in moisture retention, while shea butter helps nurture the driest of skin. The formula also contains a unique, synergistic blend of vitamins E and C to provide antioxidant protection and a firming ingredient to help tone the skin, leaving it feeling velvety soft.
What it is formulated WITHOUT:
– Parabens
– Sulfates
– Phthalates
– GMOs
– Triclosan
I would describe the Eternal Grace scent as fresh, and clean; almost a citrus summery scent. When you smell the lotion in the bottle itself it has a bit more fragrance, and when you apply it onto your body it leaves the scent but it's not as strong. Which is what I like. If you loved the scent, you can also get a roller ball perfume of Eternal Grace on Sephora's website!
I've noticed that while the scent is minimal I noticed that the scent lingers on me throughout the day and I forget who's the one that is smelling so good. It's me!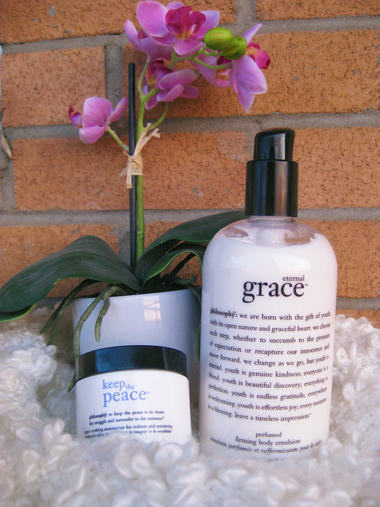 Keep the peace? Well I've been applying the face lotion religiously, on a daily basis when I get ready in the mornings. I have dry skin on my face and I haven't noticed any irregular dry patches or very much redness on my cheeks when I wash off my makeup for the day in the evening. As for the lotion, I usually apply it on my body when I get out of the shower in the mornings.  Philosophy is honestly a godsend. Since moving to Ontario I've developed mild eczema during the dry winter months, and my skin after being living here for almost 6 years still isn't used to it. Only creams can soothe it, and Philosophy seems to be right on par with all the other one's I've been using.

What's great about Philosophy's line of skin care is that none of the products contain parabens (which is a preservative that has been linked to cancer), sulfates which dries out your skin and strips the skin barrier. People often like to use Sulfates in their shampoo/conditioner since it makes the "bubbles" foam up and make your hair lather up, but it's not necessary to have bubbles to cleanse the skin/hair. Philosophy also doesn't have Phthalates in their products either. Big word, isn't it? Phthalates (which I'm not sure how exactly to pronounce)Â  is a product that makes the scent put into your products last longer. It's not often you see Phthalates written on an ingredient list. Instead you'll see something disguised worded as PVC, fragrance, or essential oils as fragrance.
When choosing a product that you're going to be putting on your body, natural really does matter. There are tons of alternatives. Just because it's not listed on the ingredient list or label, doesn't mean it's not there. Next time your are at a beauty counter or Sephora, ask if your favorite products contains any of the chemicals, which from there you can make an informed decision.
Have you ever tried something by Philosophy? They're great, ya? If you've tried multiple products from them, what was your favorite?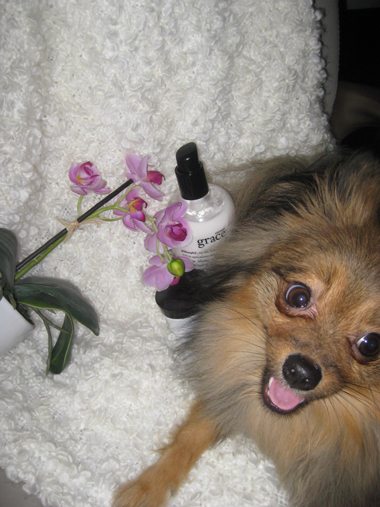 Alfie loves these products too ;)
Philosophy? Thank you thank you thank you, and then some.