I have a handful of spa gift certificates to this local place, just sitting around my apartment waiting to be used. I'm just so scared and undecided what I should get done at the spa. Sometimes I think I want a facial, other times I want to get my hair dyed there. I'd get something simple like a mani/pedi but their prices are far too exuberant for my liking. Plus I love the lady I go to.
It all boils down to me being chicken but really wanting to get some sort of facial thing done. So, I'm slowly stepping into the realm of doing things myself before I waltz into a fancy spa and ask for a hydrating or peel-like facial. Is that backwards? I don't know. To be honest, I don't know much about skin care, other than moisturizing. I love to cleanse and moisturize the heck out of my skin. Perhaps that's why people tell me I look like I'm 10 years younger than I actually am. That, or it's the genes.

There's just two must-have's in my skin care regime. It's my cleanser, and eye moisturizer believe it or not. Unfortunately they're both pretty high end products but I wouldn't have it any other way. It's just what works.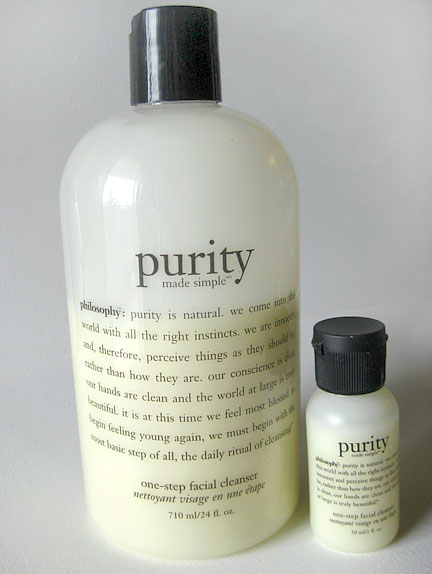 Purity by Philosophy is the cleanser that I use. I bought the ginormasized bottle at Sephora, because it's works out to be cheaper to get the larger sized, of course. It's a very gentle cleanser, I can get it straight in my eyeball and it doesn't sting. Nor does it make my skin feel tight, or dry afterwards. Bonus.
My face moisturizers vary from each time I go out and purchase one. I haven't found anything that I love yet. But what I do really enjoy, is my Bobbi Brown Extra Eye Repair cream. It's definitely a splurge for me and I can only find it at Holt Renfrew in Toronto. Sephora does carry Bobbi Brown products, just not that certain eye cream. It's a very thick, luxurious eye cream and lasts about 6 months if you buy the full sized version.
I am mourning over my empty jar of Bobbi Brown extra eye repair cream that I just finished the last week of September. I remember buying it in February — see what I mean? Lasts a long time, all you need is just a dab. Applying too much moisturizer is a waste, only so much cream can soak into your face.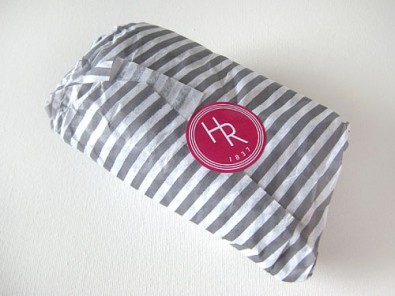 Not to worry, I went to Holt Renfrew last weekend and picked up a new extra eye repair cream :)
I'm always testing out and trying new products to add to my must-have collection. The next product I decided to try out was Philosophy's micro exfoliating triple acid brightening peel pad. Wow, that's a mouthful.
I exfoliate my skin pretty often because I self-tan a few times a month. Slothing off all that dead skin is a must, especially since I'm prone to spots of mild eczema and of course self-tanner coming off — you don't want to have splotchy skin.
You'll notice that each pad is individually wrapped which is great since it's very sanitary. If it was just in one package, the pads stay much more fresh since they're not getting exposed to the air.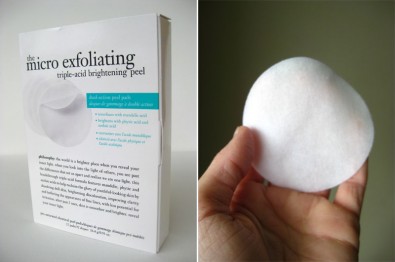 The price point of these makes me want to cry, and I'm glad I ended up getting them to review here on my blog for you guys — otherwise I most definitely would've walked right past it at Sephora!
Don't get caught off guard. The name of these are much scarier than the actual product. You think "peel" as in red, blotchy skin and your dead skin flakes off and you need to take a day off from work. No. These are so much more gentler than that, and it honestly just felt like a cold toner on your face.
The directions mentioned that you could use this pad, not only over your face but on the back of your hands, elbows and knees if desired. I didn't do that, so instead just focused on my face. The first few things I immediately noticed about using the micro exfoliating triple-acid brightening peel
It was chilly and refreshing on my face.

My face wasn't irritated! Yay!

My sensitive skin didn't feel tight after applying it.
I didn't notice any brightening the first time I used it, but are you really going to see a dramatic change the first time you use something? No. I did use 5 of the pads throughout the course of five weeks. So I'm following directions appropriately at once a week use. It claims that after two uses, skin is smoother and brighter. After 4 uses, fine lines and sun damage are visibly diminished. Thankfully I'm not at the age where I have sun spots or damage. My fine lines around my eyes are noticeable when I smile, and I'm pretty sure they're non-reversable. But that's besides the point. I did enjoy using them since it does help remove dead surface skin cells and promotes a faster rate of cell turnover. Which ultimately helps enhance your skins brightness. This is why you should exfoliate folks! You need to sloth off those dead cells in order for your skin to glow.
To be honest? Are they worth the hefty price tag at Sephora? Right now, I'm unsure due to the fact that I don't have any other exfoliator to compare to.
Have you ever used an at-home facial treatment?
What is your favorite cleansers and  moisturizers?