If you're no stranger to my blog than you know I love skin cleansers and I've written about how great my two favorite products are. One being Marcelle which I blogged about many many times, and the other which has become a recent favorite within the past year, is the Philosophy brand. I first tried out Philosophy products when I went down to the BlogHer Conference which was held in California back in August 2011. A few of us girls went to the Philosophy booth on a daily basis. At the end of the "trade show" I was known for loving their stuff and just chatting with the girls who were there hosting.
Back a few months ago I ended up reviewing two moisturizers from Philosophy, you can check those out here. Just recently, I was in contact with my PR rep from Philosophy and I love it when I get a chance to try new products from them. A few weeks ago it was Philosophy's Sweet 16th Birthday/Anniversary and I was sent the The Sweet 16 body wash/shampoo/bubble bath to try out.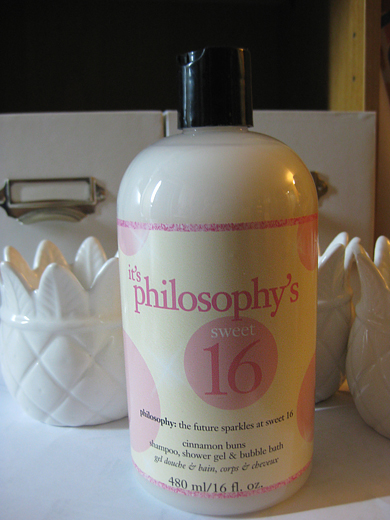 Let me tell you something. You have to be a Cinnamon fan to use this body wash. While I'm not the biggest fan of Cinnamon (or even vanilla scented things for that matter), I did use it a couple of times.
I even purchased a loofa to test out the body wash! It lathered up quite nicely in the shower and left my skin …obviously clean. I didn't use it as a bubble bath nor shampoo.
I got my boyfriend to smell it and his eyes just about rolled back into his head with delight. He's always buying himself cinnamon buns while I turn my nose up at them. I mean, they taste fine — but they're not my go-to treat if I was to pick something out on my own.
All in all, I thought it was a good product. I'm not going to say it was fantastically great or anything. Just because I personally wasn't a fan of the scent itself. I love more fruity scents like mango, lime, peach, pineapple and orange scents.
Not to worry, this product will not go to waste. In fact, I'm carting it home on the airplane with me and taking it to Newfoundland when I go there in a few weeks, and then I'll give it to my Mom or Sister-In-Law! They both love cinnamon. :)
What body wash do you currently use? Or do you use bar soap like I used to do before receiving this product? haha!