Anastasia Beverly Hills has come out with a shimmering new holiday collection that are now available in stores.
Want a peek at what's inside? These holiday pieces are a must have on anyone's list. A great hit of neutrals in both eye shadow and lip gloss form.
Both the Want You to Want Me kit and Kisses on My List (Volume 2) lip gloss set are the new items for 2012 and are like tinsel for your eyes and lips!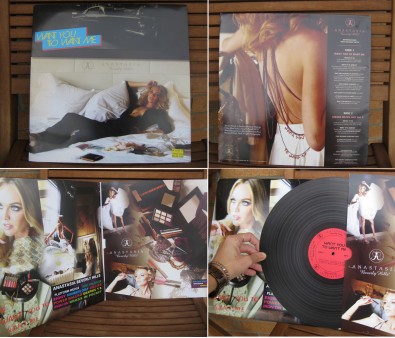 The "album" was the press kit! It opened up like an old school record album. It completely brought me back to my childhood (hey I'm not that old) playing music on my parents old school record player. They even had a paper cut out of the record. See the bottom right hand photo, in the pic above?
The Want You to Want Me is a kit within a velvet like clutch.  This set includes a 9 eye shadow palette which you can use to create a ton of 70's inspired looks. I love the rose gold hardware on the opening. Inside the "clutch" is the compact palette which has the shadows, liquid eye liner, clear brow gel and even a mini brush to apply your makeup.
The Want You to Want Me makeup kit retails for $34 ($90 value) and is available at Sephora and Anastasia.net.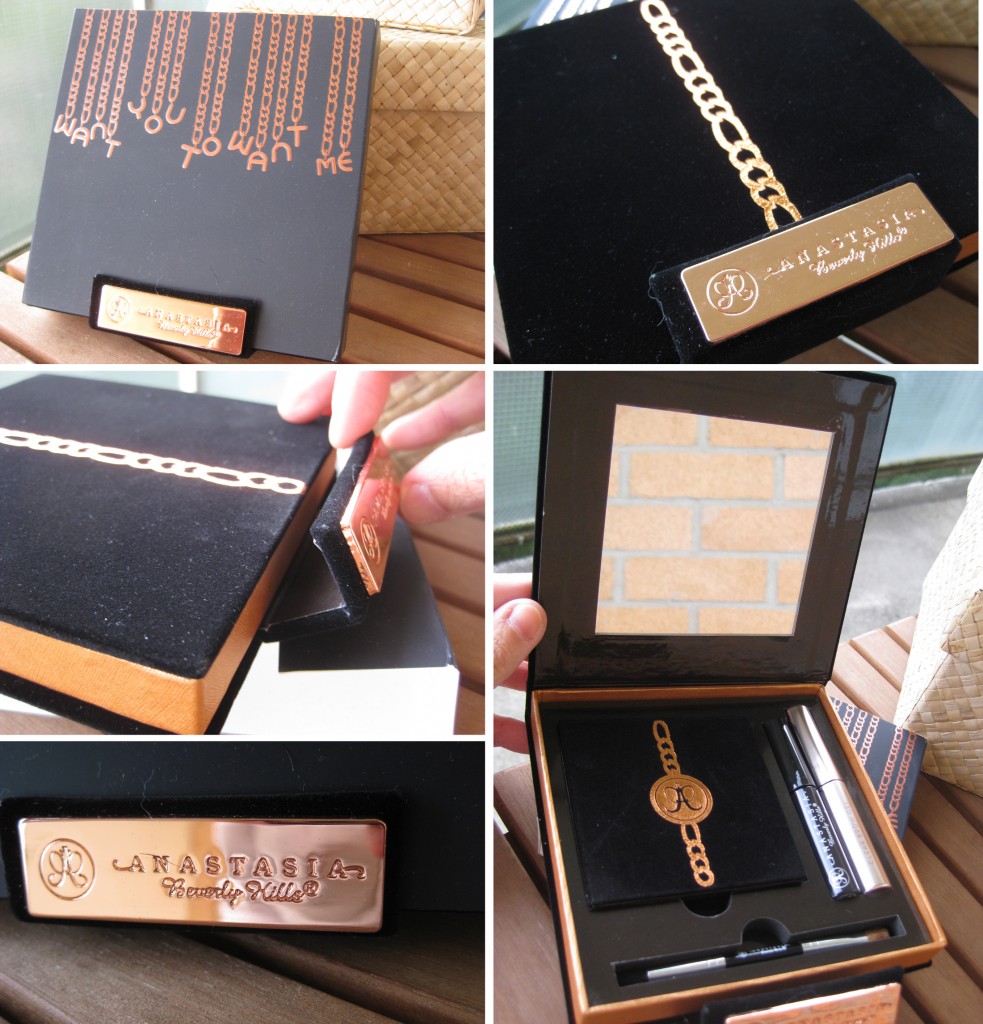 Up close photos of the eye shadows.

Here are some of the new Face Charts for the Want You To Want Me palette that the Anastasia team just sent over. Some great themes (Cherry Bomb, Heart of Glass) which you can mimic from the diagrams below. Feel free to download them, they're pretty huge!

I created this look. Using any colors that I thought were appealing, which was most of them, ha ha!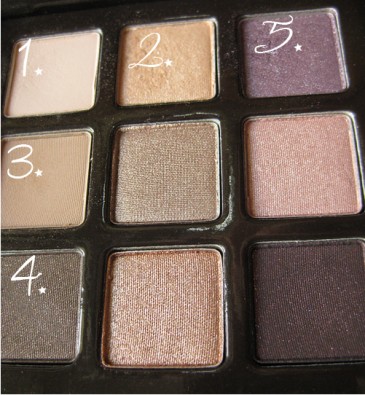 All over the lid, up to the brow bone and in my inner corner as a highlight
Over the majority of the lid to add a bit of shimmer
I put this color in the crease
I darkened up my crease with this color, focused mainly on the outer edge
I added this after the fact, on top of where #2 was, just to add some more color.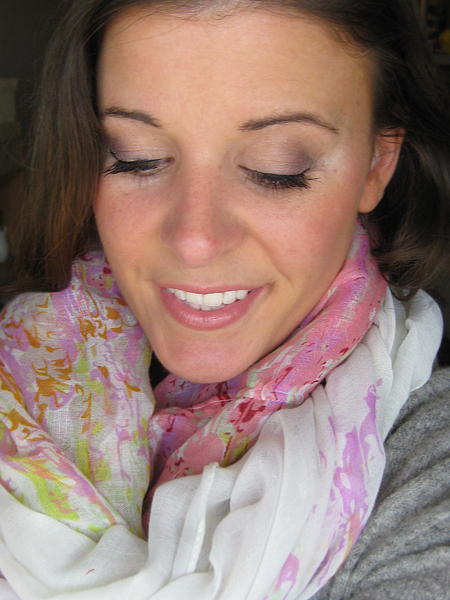 …And here's the outcome!
I ended up using the tiny brush which was supplied. The eye shadow end (not the pointy end) wasn't the best, but the pointy end I used with the 3rd and 4th color. It's pretty accurate getting it into the crease.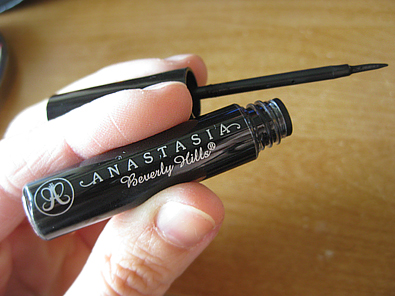 It's SO easy to use a liquid eye liner! This was my first go at it, and the only reason I haven't used much eye liner in the past is because it's so difficult to get a nice accurate line. Ignore the fact that the eye liner on my right eye is a little screwy. Can't always win 'em ;)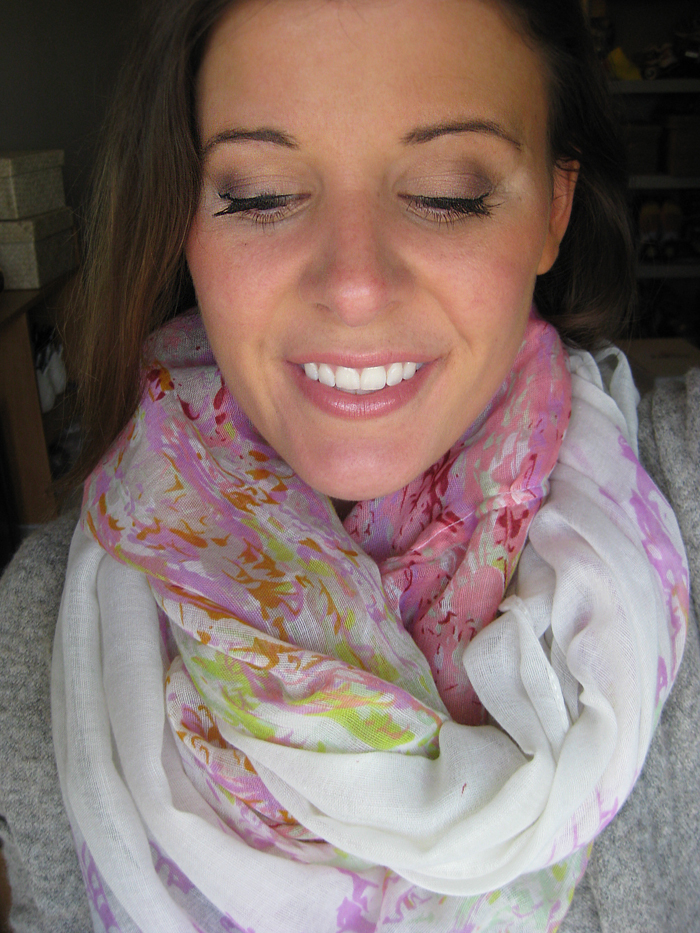 They also sent me a set of lip glossed called Kisses on My List gloss set.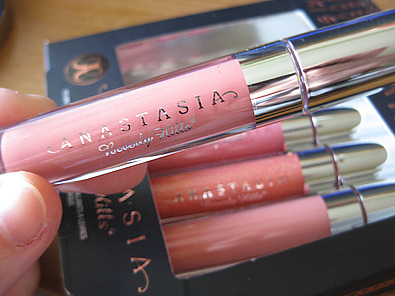 I put "Moi" on while testing out the shadows above.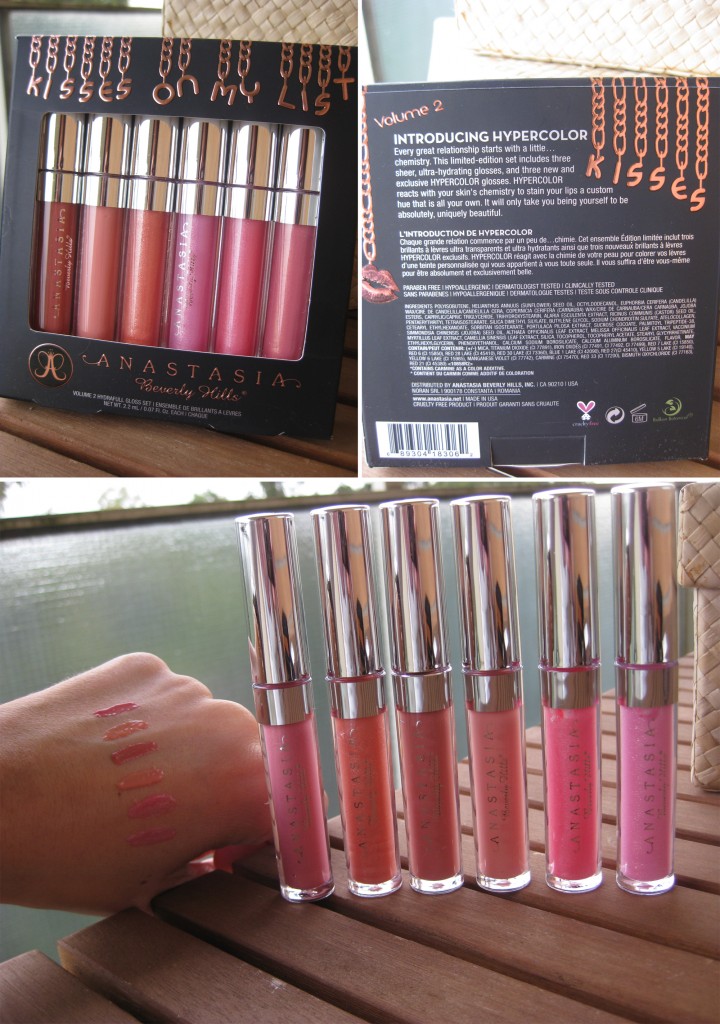 The Kisses on My List gloss set retails for $30 ($108 value) and is available at Sephora and Anastasia.net.
Oh these glosses. They're such a trickster. Look at the lightest pink color on the very bottom of my swatches. Looks innocent right?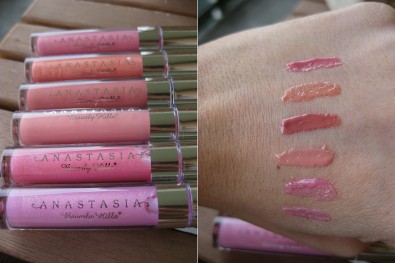 Here I am applying the thing, right before work. Thinking it was a nice baby pink with a touch of color.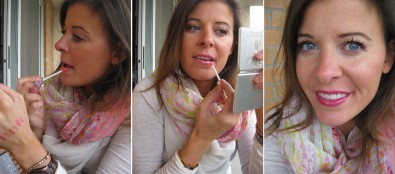 BOOM. Far right hand pic? Bright fuchsia. HAHAHAHAHA. How did that happen? Just minutes later after applying it, I had a stained hot pink lip. Thankfully I didn't mind it, but I really wasn't expecting it to change color on my lips like that. So many people ended up giving me compliments on it while I was at work on Friday. Unbelievable. Some people didn't even believe me when I showed them the gloss color and how it changed on me. Nuts.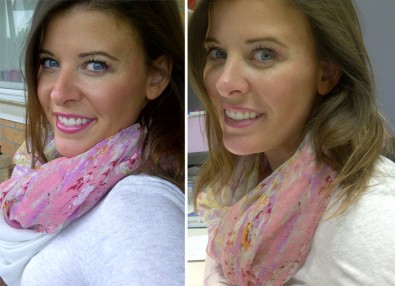 8:30am and 3:00pm. It lasted until after I ate lunch. Plus, I'm a lip nibbler (lol that sounds weird) but I'm always either licking my lips or have my teeth sunk into them somehow. It's a pretty powerful, long lasting lip color — that's for sure and takes a lot of wear and tear.
It features six high-shine glosses in matte and shimmer shades that certainly wear all-day, I can attest to that.  There's 3 that have a nice soft sheer, and three new Hypercolor Glosses that actually stain your lips. Each gloss is named after famous 70's muses: Lola, Maggie May, Sharona, Roxanne, Jolene, and Moi. (Moi is the name, it's not me from the 70s.. just so ya know. I was born in the 80's thank you very much.)

The fun part? Some rare footage of the behind the seasons at the "Want you to want me" set, where you can see everything live in action!

Who else now has the song "Want you to ant me" song stuck in their head?