I'm on my last installment of my morning routine. First you saw my skincare routine, then makeup routine where you see how I achieve an airbrush makeup look (both which are permanently linked over on the right hand bar) My hair was unhealthy and dry for a number of years of shampooing, blow drying and straightening it every single day.
In August before I flew off to San Diego I went to my hair salon and told them to chop it until it was healthy. He cut off quite a bit of hair. But it's only gotten better since he's done so. I no longer have layers in my hair. Who ever thought that putting layers in baby fine hair was a dingbat.
Recently, I asked my hair stylist if I should go get long layers when my hair gets to my ideal length. He said no way, as it looked messy and unkept in his opinion. Alright sir, you know what you're doing. I'm loving every cut he's given me, so I should trust what he says. I was straightening my hair so much my hair didn't go straight anymore since it was that damaged. I reversed the effects of the use of a hair straightener. Go figure! Look at that frizz.
What do I do to keep my hair healthy and in top notch shape now? From August — December 2011 I still shampooed, and blow dried every single day. I didn't end up flat ironing it because I frankly didn't need to do so. In the states I picked up this Boar Bristle hair brush from Sephora which I blogged about.
Boar bristles are natural and won't damage your hair. But they may hurt your scalp if you press too hard on it. I'm now used to it as I've been using it for a number of months. Plus you can kind of mold your hair straight with the manipulation of this brush. Occasionally I'd straighten it, and come into work and flaunt my hair off to Julie (hi friend!) and she mentioned my hair did not look any different than the day before. Huh! Weird hey? Well, now my straightener can go to heck, because I clearly don't need it to achieve the look.
I use a hair serum and use a pump or two in my damp hair, focusing on the ends, and then putting it in my hair again once its dry, to leave it silky smooth, and shiny and frizz free. So that's all I've been doing and my hair has grown a tremendous amount since then. I go to get my hair trimmed every 12 weeks now and my hair stylist always compliments me and tells me to keep doing what I'm doing. When I first went to him in the early summer the front ends of my hair were very thin and sparse as I straightening that part of my hair the most. It was breaking, and so brittle and dry.
He fixed that by chopping it all off in August. After taking care of my hair, the last photo shown is what my hair looks like now. Without the use of a hair straightener, I think I used it 4 times since August. See the difference six months can make?
(click to enlarge image)
January threw everything for a loop and I decided to try out only washing my hair 2-3 times per week. While it's a learning curve for sure. Learning how to tease my crown so I don't look bald from rubbing the back of my head on my pillow all night long, causing my hair to separate oddly, to using hair spray to keep things in place.
In order of usage on days that I wash my hair.
Lush shampoo bar
Walmart conditioner
The Body Shop wooden wide tooth comb
Kérastase Elixir Ultime hair serum
Aveda ceramic round brush
Sephora boar bristle brush
Days that I don't wash my hair I use: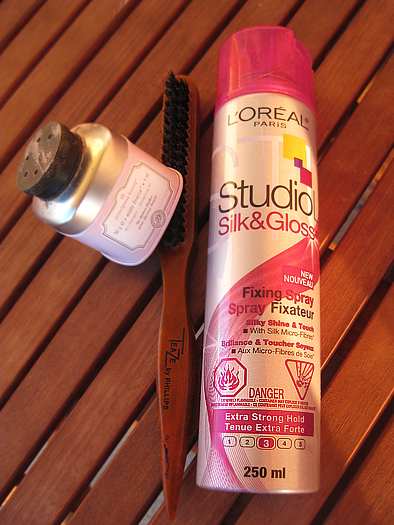 Principessa dry shampoo
L'Oreal hair spray
Embrace your natural hair as much as possible. Sure I treat myself and straighten or curl it once in a while. But for the most part it's all the work of patience, a boar bristle brush and hair serums. I'll get into detail more about the hair serum I use in a few days. I LOVE IT.
See related posts: