Remember Julie? I posted an outfit of the day of her and her cute ensemble one time. Well SHE just saved me forty five bones. Thass right.
On Monday I purchased this skirt at Mexx.
It was full price and I paid for some of it with a gift card that I got for my birthday. Yesterday I got a phone call (because I'm apparently on the VIP list?) from Mexx saying that their entire store goes on sale for 50% off everything starting at 6pm. Which apparently is only for the VIPs and open to the public Friday for 50% off. WHA!? I was in shock (because of my full priced skirt, obvs) that I thanked the manager for calling me letting me know. Time to tweet my anger.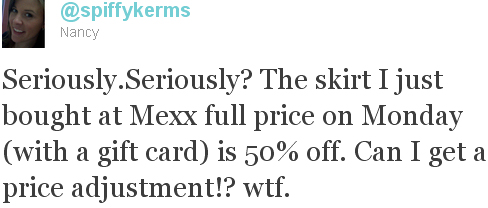 I called another Mexx in the vicinity and told her my story of purchasing it on Monday and asking if I could return it to get the 50% off. She said no. I asked then if I could get a price adjustment, she again said no. I told her that the sales clerk should've told me that they were going to go on sale on Friday. She slyly remarked that "if we told all of our customers that there was going to be a sale we wouldn't do any business". B…. Right? Whatever, I was frustrated and just left it at that.
I told Julie my conundrum and she decided to call the very same Mexx that I bought my skirt. The same Mexx that called me about the sale. She got on the phone very bubbly, but confident saying "What can you do for me now?" — the manager, who called me specifically told Julie that it would not be a problem. Either I could come in and return it, or do a price adjustment.
I could've kissed her, or give her a Cohiba cigar lol! It totally made my afternoon yesterday. I wanted Julie to come to the mall with me during lunch so she could speak up for me if I had any more returning issues. I mean hello, $45 is like a tank of gasoline for my CAR people! Isn't that great? We joked around earlier that we should've called the place back that said no to me, and say "well I got my money back" or something. Idk. Whatever.
We went into Mexx on our lunch break with L McMomsie (remember her too? She's the funny guest blogger!) and trotted into mexx. To keep this blog post short I'll just give you a run through, basically I politely argued with one of the sales staff (because the sale didn't start til 6pm.) and ended up getting my $45 back when I mentioned I was on the VIP phone call list and wanted to talk to the woman "I" (I meaning Julie lol) talked to yesterday over the phone. She wasn't the manager, so then I asked to talk to the manager instead. BOOM. That'll score you some service. I'm glad I had these girls (Julie and L) to back me up in case anything bad happened that I'd turn red, slurr my words and not be able to get my money back, hahahaha!!!
Omg… I'm much better at writing e-mails, or letters than chatting on the phone when I'm angry lol.
Either way, now I can say… in your face mexx!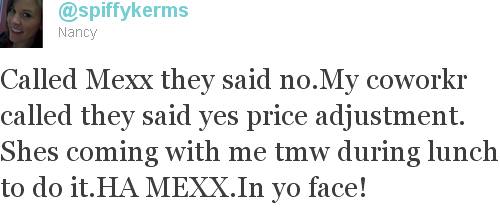 Stay tuned for the sandal heels I bought with the money I saved. Except the shoes were such a steal: $15. BOOM.