What a world wind of a weekend. Whoo wee!
I woke up Saturday morning to turn on my computer to check my e-mail but then noticed the internet was down. It ended up being down the entire weekend and it's probably STILL down. I'm writing this blog entry on my lunch break here at work.
I ended up going to the public library to see where Angela lived so I could pick her up and we could go to the other Angela's house. Angela was hosting a Birthday potluck so a bunch of bloggers were going. I was a bit nervous at first mainly because I can be shy in certain situations. But do you know what? I had such a fantastic time and you'll see below in the photos that I'm laughing in almost every one of them. I woke up with a sober hangover from laughing all night long. I secretly want to be BFF's with Stephanie, Morgan and Nienke now! They all had me laughing til my cheeks and head hurt to the point where I thought I had a tumor! You know that kind of pain, right? Back of your head, laughing so hard.
Okay. So, I didn't bring my camera so I'm taking them from everyone's blogs. Everyone made such fabulous food!!
A lot of gluten free, vegan and vegetarian. I brought Scalloped potatoes which I'm not sure how it falls into the three other categories but everyone seemed to love it as there wasn't much left at the end of the night.
Mediterranean Pasta Salad which Nienke brought, then Kale salad with beets from Sarah Below is the delicious sweet potato & edamame salad from Angela. This has to be my favorite salad of the evening, I'll be re-creating it with her recipe!
Here I am meeting Stephanie and Sarah for the first time I think I'm hearing about her sweet little man-cat named Henry… poor thing.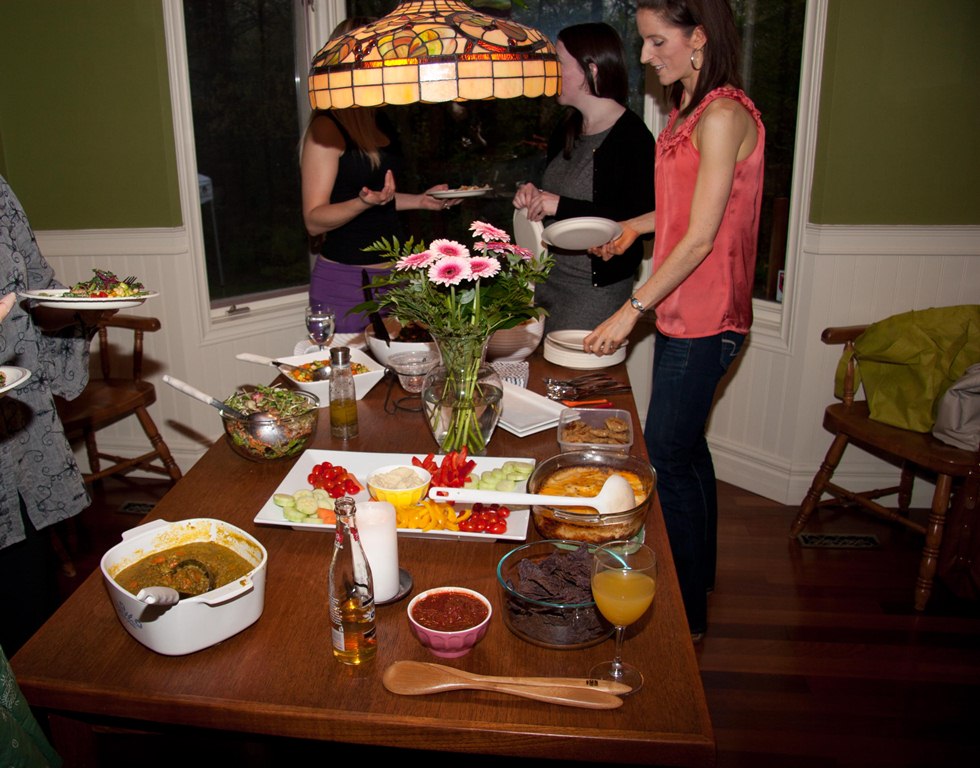 Here's Angela getting ready to dig in. On her left you can kind of see my scalloped potatoes. Yum! Dig in!
Everything is so colorful!
Oh… the dessert. I'm still drooling over the strawberry/blueberry/granola one. I think the Birthday Girl must have made it. I can't wait for a recipe. Stephanie made something with prunes in it (lol). Hearing the word prunes made my nose turn. I didn't know what was in it when I ate it, but I LOVED. IT. Apparently it was vanilla, pecans and prunes. You don't mash it but you put it in a (really good) food processor. Neat.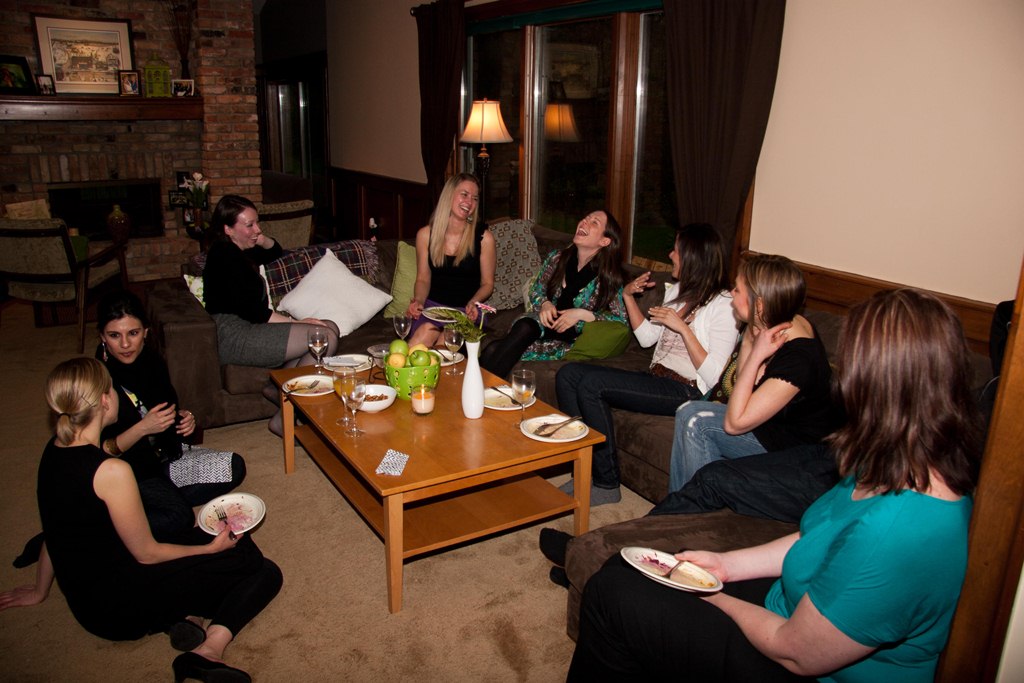 After dinner we all sat and chatted and told funny stories. I'm not sure why Morgan is laughing so hard here, but that was the theme of the entire night. Laughing until your mascara runs and you have to tell the people to just STOP TALKING so I could catch my breath!
Another group shot. Notice I am still wiping away laughter tears.
Angela looks like she's telling a funny story too! It was sort of surreal meeting Angela because I've been reading her blog for so long. I even spotted her at her first triathlon last summer and was too shy to speak up and say hello! How silly.
Above is Preena, Nienke, Angela, Angela and Morgan.
Nicole, Preena, Lisa, Nienke, Angela, Angela and Morgan.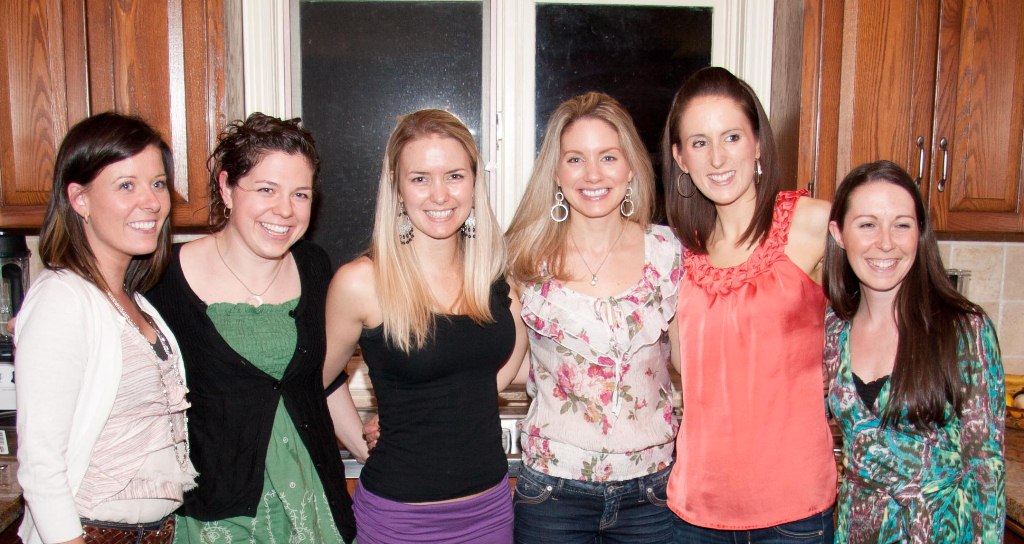 At the very very end of the night. We were all just so giddy, hense the laughing faces on all of us.
So fun and so many new bloggers to check out and read! Here's a list of everyone that attended:
Birthday Girl, and host Angela Oh She Glows
Gillian Gillian Young
Ricki Diet Dessert n Dogs.com
Nicole A Dash Of Compassion
Stephanie Lunges and Lunch
Lisa Vegan Culinary Crusade
Sarah Long Legs Healthy Life
Karly (no blog listed?)
Morgan Life After Bagels
Nienke Revel Blog
Preena A Teaspoon Of Turmeric.com
Ashley Maintenance With Ashley
Angela Eat Spin Run Repeat
This was my third blogger meet up. The first time was back in November when I met Angela and a few others was at Cora's, then I went to Toronto and met more bloggers (including SUSAN!). Have you ever been to a blogger meetup? I've been blogging for as long as I can remember (literally) since about 2000 or 1999 (I somehow found a blog post from 2004 in the  "archive snap shot" I just don't remember my blog[s] names before that!) .  I never thought for once that blogging would turn into meeting some really great friends! Yay!