On Friday I got my hair done. This Friday, I'm going back to have it re-done. Not all of it, but just going back in to get what I had originally asked for. I really dislike it when stylists do not listen, and they give you a more conservative look. A conservative look is not what I had asked for. I had even supplied him with a picture that you've all seen many many times before.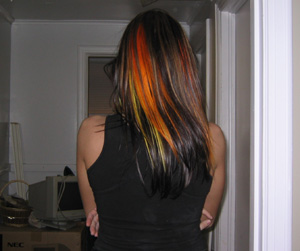 This is what I got. The flash makes the orange appear brighter than in person.

After/Before photo shot. I see no "peek-a-boo" colors! Where's my orange foo'.
Yeah, it's orange. Yeah it's different. But it's not what I asked for. He didn't bleach out my hair, he just put the color over my brown hair… and didn't use a vibrant orange. Just tell me. If you cannot do the dye job, just TELL. ME. I will go elsewhere, or supply you with dye. Lord thunderin! Oh, and he mistakenly added me to his Blackberry Messenger list, so on Saturday afternoon I messaged him asking to come back.
This is more of the accurate color. Blackberry cell phone shot. Not bold:
I've followed this guy for two years, hes' now at his third salon and has given me really great hair cuts. It's the first time he's dyed my hair. I just really miss my old stylist back home in Newfoundland who doesn't work anymore, and in fact probably disappeared. But whatever that's besides the point.
One more chance buddy…then you'll be getting on of these Diet pills that work fast things from me. Oooooo.