Yesterday was a pretty productive day in the kitchen.
I haven't been in the mood lately for meal planning or making anything other than meat and potatoes. So I searched for some recipes on All Recipes.com and ended up making something quite similar to my vodka sauce. Oops. I used this recipe that was on allrecipes.com. I swirled everything together in my fancy cuisinart like the cream cheese, garlic, and pasta sauce. Whipped that up in no time!
While that was heating up in a pot on the stove, I decided to fry up some broccoli and red pepp's — whoo wee let me tell you. The kitchen smelled SO good that evening.
Our supper consisted of penne pasta with some creamy sauce (recipe here, I ignored the chicken and basil), brocc and peppers. On the side was some garlic bread and a nice spinach salad with pine nuts and croutons. Mouth. Watering.

But that wasn't all! As everything was slowly cooking, I decided to make my own pesto. I have no idea how I made it, and I'm planning on stuffing it inside some chicken tomorrow night for supper. I put a whack load of spinach in the cuisinart, a dollop of minced garlic, a lot of pine nuts (yum),  lemon juice, salt + pepper, extra virgin olive oil and I don't even know what else.  I hope supper tastes good tomorrow…
Oh. I also made a enormous amount of cookies. Why didn't the recipe say how many cookies that it was going to make? I'm not a baker. When I find a recipe or something that I like, I stick to it. But this time I searched All Recipes (hey, it's addicting) to find a chocolate chip cookie, and boy did I find one – "Award Winning Cookies " apparently. I swear if I made the whole batter, it would have ended up making about 200 cookies. No joke. I went on twitter and found my answer — I ended up freezing half of the batter. There's a ton of sugar, and they're very sweet. The recipe is quite easy to follow, and they turned out beautifully. I'll definitely be taking some of these into work and share.
There you have it. A nice productive day in the kitchen, yesterday.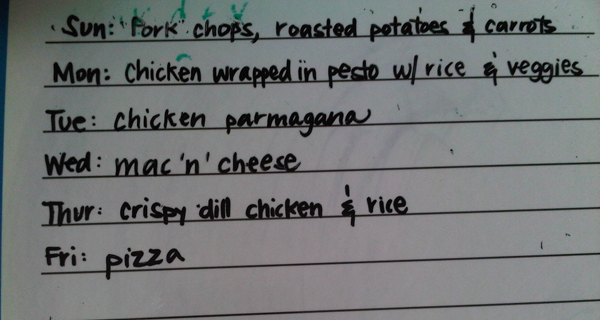 I even have my menu plan for the week set out!