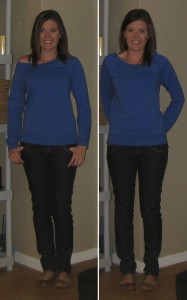 Remember when I posted my vacation haul and someone commented they wanted to see this blue sweat shirt on me? Well here she be!
Off the shoulder isn't really my thing, I'd get too self conscious and keep pulling it up. So I wore it the the way it's pictured in the second photo. This is the outfit of the day I wore on Sunday (I can't believe I'm going to do two straight weeks of OOTD's! M-F, weekends, and then another M-F! No shame.

A little less than a month and I'll be on my next vacation or weekend getaway, and I'll be flying to a special place that I'll keep a surprise for now — I mean, I don't want any creepers creepin' me at the airport, right? Those who know, know — and those who don't, will know later… when I return. Ha! So top secret.
I'm in need of some new work pants, seeing as I lost my favorite pair somehow — actually I probably KNOW how. Because when the boyf went downstairs to get our laundry on Sunday, the whole pile of clothes that was in the dryer, was outside of the dryer, unfolded, wrinkled and sitting on a table. For Eff sakes. No wonder I have clothes that go missing. What I was originally saying, is that I needed/wanted new work pants. Preferably on the skinny jeans/pants style with some calf boots. I'm digging the slim lined leg look and I don' thave any of those except for jeans. Not supposed to wear jeans to work!