Not really Friday, because it's Wednesday. Canada Day is tomorrow, but I still have to work on the real Friday. Such a confusing work week, but welcomed holiday. Much needed.

So my brutal burn has turned into an unexpected tan. I'm multi-tasking here and talking to my Mom on the phone, cooking supper and modeling my new tan for you all. Fancy fancy. I haven't been working out regularly since my 5k race on Father's Day except for the soccer games I play in. So I decided to kick it up and go back to the gym and do a Boot Camp class (for the first time in a few months) — sure I got my ass whooped but the class somewhat flew by and I feel great this morning. Not sluggish at all!
Funny how when you skip the gym or a workout for … oh I don't know, two months and just keep running that you feel worn out. Exercise = energy just like Kelly talked about on her blog yesterday!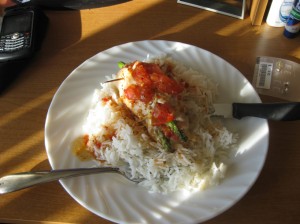 Then of course I fueled up with some asparagus wrapped in chicken with some roasted red pepper something or other Kraft salad dressing drizzle on top.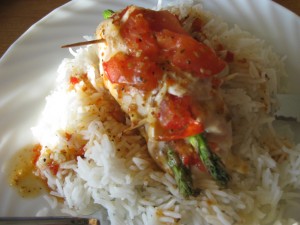 Chomp down! Can't wait for supper tonight. Mmmm my belly loves food.
Don't forget to enter my DownEast Basics (clothing) giveaway — you have until July 5.