Since I'm from "Down East" (Eastern Canada, Newfoundland to be more specific), I was automatically drawn to the online store DownEast Basics for some fashionable yet casual clothes for either work or weekends.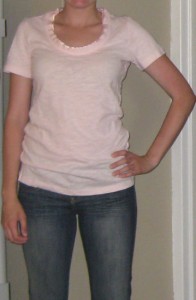 I was excited when they sent me a tee from their new arrivals section of their site. This is called the Fancy Tee online and retails in the store for $16.99. As for the fit of the shirts? I requested a size small and probably could have easily gotten an XS. I usually never opt for an extra small because often times I'm not that size.I ended up getting my regular size, in a small — however when I wore it for a full day it seemed as though I could have easily asked for the XS and have it be totally fine, I guess it's a big make.
The top is really pretty but when I saw neckline on the Fancy Tee online it looked different that it does in person. Online the fancy tee looks like the seams on the neck are just sewn with some satin peaking through, but in person it's raw edges and a lot of layers of cotton/satin. It's kind of neat really. But I thought I would let you guys know!
DownEast Basics is pretty rockin', I have to say. This top would be super cute running errands and maybe even dressed up with some white pants and accessories and you could easily pull this off in a casual work environment. Like any working female, I like to look good for work or "play". I usually end up putting together a whole weeks worth of clothes together on Sunday night. I definitely would like to get more clothing from DownEast basics, mainly because the store is stylin' and fits right within my budget. Not too expensive either.

Since I am quite incompetent with putting together outfits, I liked how DownEast Basics's store works, online. Everything is paired up with one another, so it's not just showing a model wearing the tee, or just the skirt. You'll see her wearing accessories, and even carrying purses. That right there gives me tons of ideas on what to pair items up with.
There is such a diverse selection on the Down East website that it would appeal to anyone of any age for that matter, as the styles just aren't simply "one set style". They're classic pieces that could be worn for more than just one season. Also? So fabulous that you have a variety of accessories, bags and even SWIM wear!! The perfect one stop shop for me. Plain and simple. The site is so easy to navigate, even if a person (like my Mother) just getting into online shopping would find this site easy to search and find what they're looking for.
Now tell me something. What is a review without a giveaway for my readers? I know you guys love freebies and having a chance to win something fun from DownEast Basics! However the item you pick out must be from the new arrivals section.
I'm not going to make you jump through hoops. But if you want additional entries for this contest, just read the rules and follow! Your first comment is basically free, see below!

Rules and Regulations:

Comment once and tell me if you won, which item would you pick from the New Arrivals section?
Comment again if you become a fan of DownEast Basics on Facebook
Comment for the 3rd time if you follow DownEast Basics on Twitter

Last comment? Tweet or Blog about this giveaway!

Contest will be open to residents of the USA and Canada


Contest will close

12 noon EST, July 5, 2010.

Additional entries after that will not be counted, and deleted at a later time.

Winner will be drawn from random.org
After this review/giveaway, the winner you choose will not be eligible to win another DownEast giveaway on my blog for at least 90 days.
Once the winner is selected, I will request they send me an e-mail with what they would like (from the New Arrivals section) in the color/size + shipping information. I will contact DownEast Basics and send them the information! :)
Wahoooo giveaways are fun! Good luck all. Remember, if you don't win there's always next time. Giveaways on spiffykerms.com are a super fun regular occurrence!