I didn't do a race re-cap of the race that my Boyf did yesterday. I woke up at 3:30am, drove up north — we got back at about 6:30pm and ate some quiznos and headed to bed at 9pm. Awesome evening.
However that doesn't stop me from drawing a random.org name for the DownEast basics contest winner!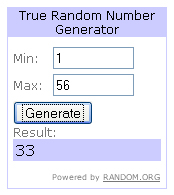 Congratulations Useridk! Please e-mail me with the product (from the New Arrivals section), size and color along with your name and shipping information to me at spiffykerms at gmail dot com.

Oh yeah, and the QUEEN of England is here today. Snipers on buildings? No biggie. Regular blogging will resume later on.