I haven't posted many Outfits of the Days lately, so what better way to keep up than post an abundance of them? Wahoo!

I stopped wearing these khaki pants, mainly because I despise the fit of them. They give me fat marks on my sides. "Love handles" people (I hate that word). Plus, all my pants shrink in the wash, even if I don't put them in the dryer. I don't even have abnormally long legs or anything. I'm only (almost) 5'6″!

This is exactly what I'm wearing today! How random was that? I like this outfit.
This scarf was probably wrapped too much around my neck. It looks awkward. But nice outfit, ya?

Awkward outfit. Thought it was going to work, decided to wear it regardless. I'm lazy in the A.M.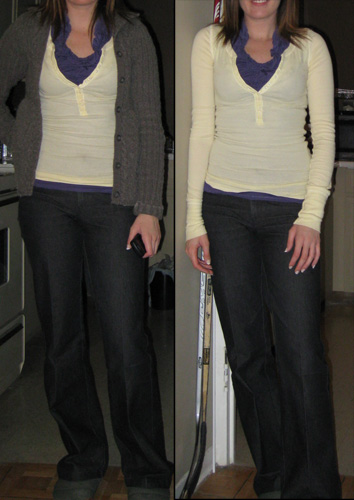 This one looked much better without the sweater. But it was cold in the office the past few months.
Woah. Too much bulk. Clearly I love scarves and sweaters.Really though, I don't think they go all that well together. Good thing I take photos so I can see what not to wear again…
I love this "weekend look" I did a while ago.  Simple, but nice.

Chime in.