Don't you love good hair days?
Obviously working in the industry I'm in (I'm a Graphic Designer), I have to look presentable at every given time. Especially since I'm working inside a financial institution! I used to be hidden in the back office until I moved to another branch closer to work, now I'm all out in the public. Scary stuff :)
Now I don't have completely unmanageable hair, as it's pretty straight as it is. Except there's always kinks and curls in the wrong places. I often wear my hair straight — well more truthfully, every single day I straighten it. When I blow dry my hair it gets puffy, frizzy and pretty crazy looking. Probably because I use a drug store $15 blow dryer, and never let my hair air dry because it'll get flatter than it already is.
However, even after a fresh new hair cut a few weeks ago, I still found myself resorting back to the flat iron, not only to straighten my hair, but to curl it! Why have I never used this technique before!?  Mind you, I have yet to master curling my hair with the cliche straightening iron, but I'm giving it my all.
I found that using a good quality flat iron will make your hair look a hundred times better than using a generic brand bought for twenty bucks. Which I was excited that I came across the Misikko website! Misikko sells a range of hair products from flat irons, curling irons, professional hair dryers and even hair care products! Misikko even has a button on the main page "items under $100". Which is great for those who want to spoil their daughters/mothers/friends with a great present for their hair, but don't want to break their bank.
I was sent this Hana Professional Flat Iron 1'' – Pink Edition hair straightener which is on their website for $119.99, to review on here to show you what the quality of the flat iron is like. It took literally no time to arrive. 4 business days to arrive from the states! Zippy shipping.

Everything came in shoe sized box, all packaged so neatly and nice. Even little roses! lol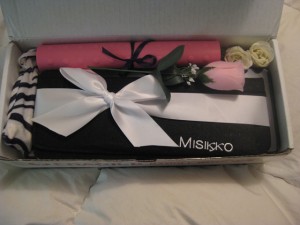 The flat iron comes in a nice tin! Check it out:
There's the on/off switch above, with temperature control settings. Ooh la la, now that's fancy. I never had temp control settings on a flat iron before, even with my Chi (that caught fire)! However if you want to buy a Chi hair straightener for yourself, there are plenty on Misikko too.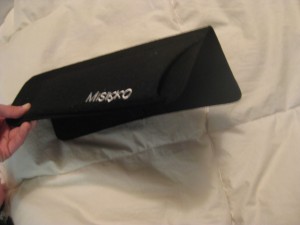 Even comes with a what I assume is a felt carrying case if you don't want to use the nice pink one.
I'm impressed what the Hana Professional flat iron comes with. If you do your hair on your desk or sink like I do, you'll probably notice burn marks after laying it down for too long. Lay it on this silicone mat, and you'll have no troubles!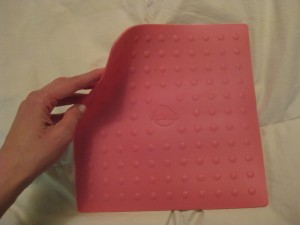 Some heat protectant too! This leaked out in the box a smidgen, but not enough to ruin anything as everything was covered up in the box anyway!
And look! Inside that adorable zebra print baggie is some hand sanitizer and nail files! SO CUUUTE.

Before I straighten my hair, I go through a routine on protecting my hair from all the heat before my hair gets damaged from using my blow dryer, and then putting another hot number on my hair, such as the straightening iron. You can view my hair care routine that I recently picked up since having a hair cut.
It felt a lot lighter than my other straightening iron, which is always a pleasure even if it only takes 4 minutes to straighten my whole head. I found that it didn't nip at my hair like my other one either. Probably because the Hana Professional by Misikko was better quality and had "squishy" ceramic plates. You know, they move with the hair and all? So great. I'm interesting in seeing what the FHI flat iron is all about too.

I'm going to be brave and post some photos of what my hair looks like immediately after I blow dry it. It gets big, but my hair is fine/thin and after about a half hour it settles down to just an untamed not really sleek looking 'do. So that's why I like to straighten my hair daily.

Before and After pictures:
You can even curl your hair with the flat iron! It's great how I can go from sleek and straight, to create some waves or even curls with a matter of time. This flat iron gives long lasting results for my already semi-straight hair. But honestly, it does because even when it's humid or misty rain outside this flat iron stood through time and made my hair look awesome, all day.
I have noticed something different about this flat iron though. I thought all flat irons has those 're-setter' type of plugs like the one shown below:
Here's the pink hana below! (With the regular plug)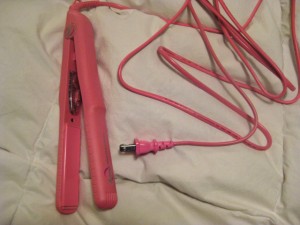 Ohhhh. I love it. It's pink, so sassy and I use it everyday. Thank you Misikko for creating a great flat iron and sending it to me! Much appreciated :)
But wait! There's more!
Come back tomorrow and have a chance to win your very own Hana Professional 1″ just like mine!