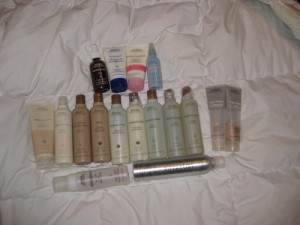 It's safe to say I can be an Aveda advocate. I've been using their products since 2003 and I haven't switched since. I'm dedicated to what works.
I mentioned on Saturday that I'd tell you all what products was used in the creation of the beautiful curls that the hair stylist put in my hair. Unfortunately, as easy as it may look  it was difficult to recreate lol. I usually only go to salons that uses primarily Aveda products, so when he was washing my hair — he was using the same shampoo that I use at home: Aveda Rosemary Mint (shampoo & conditioner). I'm not fond of the smell, but I switch up my Aveda shampoos regularly so I don't have to smell it all the time. I loved my stylists personality, because I told him: "Is that Rosemary Mint? I have that at home — haven't used it in a while because I get sick of the smell." His response was awesome (I love this in a stylist — take charge, my friend!) "Hold your breath ha ha!"
That right there, believe it or not made me trust him more. He's not out to sweet talk me or apologize. He knows what he's doing, and I bet if I ever said "Color my hair! Something crazy!" he'd do just that. A dramatic bold punch and wouldn't let me look at it til he's done. I definitely found my new stylist.
I'll just do a run-down on what he used on my hair on Saturday:
Shampoo + Conditioner: Aveda's Rosemary Mint
De-tangler/Leave-in Conditioner: AG Conditioning Mist.
Thermal Spray/Heat Protectant/ Gel Hold: AG Thermal Spray Gel. This product I can't find on their website. Oh well, you can at least see what it looks like below.

I haven't heard of AG (view their website) before, and my stylist recommended it to me over the Aveda items. Apparently it's Canadian and he likes supporting that. He says the AG's scent mimics Aveda's shampoo and conditioners, however I have to disagree. Aveda smells like a salon, whereas the AG products smell like grapes or apples, more fruity. It's a welcoming change, but once I use this whole bottle up and I'm not pleased with it? I'll be going back to Aveda. I'm pessimistic with new products, so this one has a lot of owning up to do.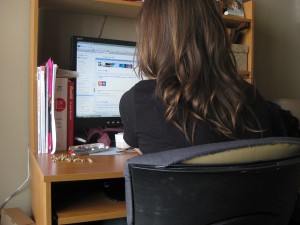 How did he curl my hair so nice and sleek? Well that my friends is a question I'll be pondering for a while. All he did was dry my hair with the blow dryer with a regular brush, and when it was 75% dry he started round-brushing it which made it look sleek, and once he was done round brushing the roots, he ended up doing a little easy "flick" with the brush towards my ends, creating a nice subtle curl. I am going to master this technique, even if it takes months.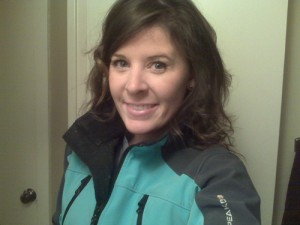 It always looks so much better when you're about to go out the door. Then you get into work and the back of it looks like this…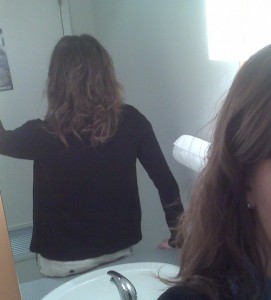 Not even close to my 'do on Sat.
At least I was complimented by the University's printing-staff delivery lady! Success? Start small. Start small.

Be prepared to only see photos of me with curly hair in the future :)