Because I haven't done it in a while, and people convinced me.
Yesterdays "outfit of the day". See my little Pomeranian puppy (alfie) behind me? tee hee.

Cardigan: JCrew
Tank top: H&M (recent buy)
Pants: America Eagle from… 2003. I'm not kidding.
Watch: Fossil (Stella)
Bracelet: Aerie
Ball earrings: Forever 21
Shoes: Aldo (see below)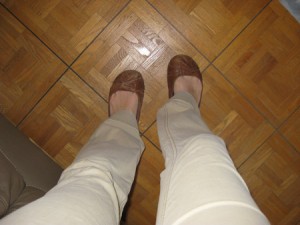 My mess of curls that I tried to do with the round brush but ended up not doing anything at all. So I resorted to the straightening iron… to curl it. Ironic, isn't it. I fail at trying to mimic what the hair stylist did to me.