As I mentioned in my H&M mini-haul, I ended up buying quite a few things from there! Even my Mom asked over the phone this weekend "There goes No Buy Month!" Yep – right out the window. I can't do it in May either because hellooooo that's my birthday month.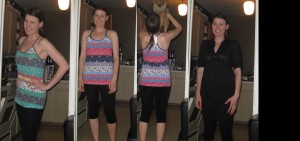 I may or may not have taken the back-side photo to see my new muscles from working out, haha! I'm also going to return the black tunic. It's see-through, and not my favorite out of all the purchases. Plus, I don't think I like black-on-black with this outfit. Ew. I'm wearing the same outfit that I did on Saturday because I love it so much. Remember, the pink tunic and leggings? Oh yeah. The tank tops are a definite keep, as they were only $14.50 each! Score. I also won't be wearing these with leggings as the shirt is a bit too short for that. Nobody likes to see… that.
Can you beleive I'm so wide awake this morning? I think it helped I went to bed before ten last night and woke up and did a boot camp class with my favorite instructor filling in for the s**ty one. HA! <3 her.
Okay. More purchases. I know, I can't get over it either.
I also picked up some cute summery 3/4 length cardigans at Old Navy. They were on a one-day sale for $14.50 each (reg. $29.50). I'm not sure I'm going to keep them yet. They're SO soft though. I have enough striped in my wardrobe as it is. Hmm…what I really want is a hot pink full sleeved cardigan. Or pink in general. I think these may go back. I had to take photos of them with my blackberry since my digital camera battery died in the process of taking these pics.
Yeah. I think I just convinced myself I'd rather have the $30 back than keep the two cardy's. Plus, I'm returning the black tunic. More monies for meee.