When I had funky hair colors in my hair I was complimented by a lot of strangers. At first I didn't like all the attention, but I got used to it quickly ;)
Just last weekend during the Hamilton 30k road race I saw a girl with fantastic shaped eyebrows. I was staring at her, but too afraid to be like "Hay girrrl you've got some kick ass eyebrows." Then I stopped immediately because I think she thought I was sizing her up. I was only looking at her eyebrows though! Mine are so thin and it takes forever to grow them out, and when they grow out they look like butt.

Personally, I hardly ever compliment strangers unless I'm in a super outgoing mood which is rare lol. It reminded me once again today, because I saw this woman at work who had an awesome purse. I complimented her for it because it was colorful. I only own colorful purses, no black, no brown, no white. But most occasions I'd just be quiet — like the Hamilton story.
So this brings me to my burning question.

Have you ever complimented a stranger? Or even have strangers ever complimented you?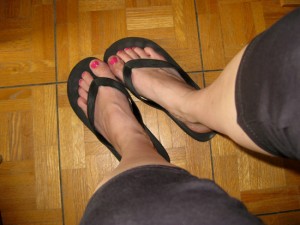 I ended up waking up early to go get a pedi this a.m.. Perfect timing too as it was a scorcher out there. Still is, and it's 4PM.  After the pedi appointment I went shopping (sorry, No Buy Month is a total fail hahahaha).
What I wore shopping/to my pedi appointment:
$3.00 t-shirt!!! From Urban Planet? Maybe. I got it Christmas time. I want more!!
American Eagle Jeans from 20040-ish?
Old navy flip flops, from their pre-redesign. I hate their new flip flops :(
My new outfit below! I haven't worn anything like this before, and these are my first pair of leggings! YAY be proud of me!
Tunic + leggings are from H&M
Same flipflops
Watch: Fossil Stella
Sunnies are from Winners, but just Christmas time (or maybe it was way before that). I ended up buying a backup of 3 pairs when I saw some dup's at Ardene for 3 for $15! YEH YEH!
I thought Alfie would have wanted to be in the photo too. But no. So here's an outtake of me trying to make him look at the camera, ha!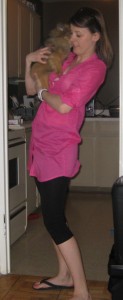 Thankfully a two hour walk DOES tire out this puppy. Two days in a row we went for an absolutely enormous walk — and now he's sleeping. Thankfully I can go bake my first cheesecake in peace haha.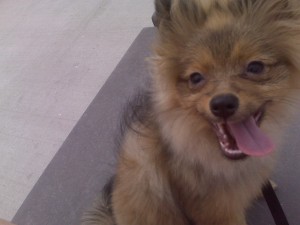 Don't forget, you can now subscribe to my RSS feed, and I also updated the recipe page to add gingerbread men – don't laugh….