I'm a stationary fanatic, and when I find an item that I love, I rarely use it for fear of "wearing it out" such as the Pilot G2 0.5m pen lol. DON'T LAUGH, I know some of you are just as crazy as I am about pens and other writing utensils. Trust me on this.
I ended up writing the Pilot pen company back in October about my favorite pen asking where they now sold it as I couldn't find my favorite pen anymore, to buy a backup!!! CRISIS!

Here is my e-mail that I sent to them:
Hi there!

I've been rarely using my favorite pen: Pilot G2 (0.5mm) for a few years, for fear of it running out of ink. I picked up this pen from a store that sold them individually. Little did i know that it became my favorite one to use, because of how fine the tip is.

I've tried to purchase a back up for when I run out but I have been out of luck trying to find one whether it be a new pen or a refill. I can easily find the 0.7mm tips but I don't want to purchase those.

I'm currently located in Waterloo, Ontario Canada and searched online at Staples Business Depot and have gone to various other office stationary supply stores only to not find the pen.

I haven't been able to find them online either on your pilot website. Did Pilot stop making this sized pen? If you could direct me in the right direction I'd be thrilled! I clearly love this pen and am on the hunt until I find my backup. I can then use it everyday. Awesome.

Thanks for your time!
Their reply?
Dear Ms. *****,

Thank you for your recent E-mail message. We appreciate the opportunity to assist you.

Listed below is the Pilot subsidiary for your location.

You may contact Crestar Limited. Crestar Limited is a subsidiary of Pilot Pen in Canada.

Website:    www.crestar-limited.com Tel:        1-514-731-3808

Each Pilot Affiliate has a specific list of products available to them and the residents of their marketing area. They may not sell outside of their area, nor may they sell directly to consumers. Regrettably to say we are unable to provide assistance for these pens.

Once again, thank you for your interest in our products.

Sincerely,

Holly ******
Consumer Advisor
Ugh. Those people do not sell singles to a person who just wants one or two pens for a back up. I'm not looking for hundreds. So I stopped, and only used my pen like once a month, literally. I'm crazy, I know. But it's my favoriteeee pen.  It's super incredibly fine pointed and I can print like no other.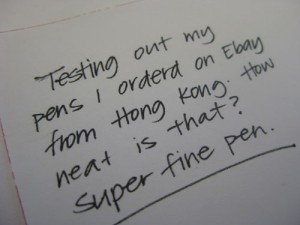 See? I mean, a regular pen can't make me write like that. I only use this for writing on envelopes now, or special occasions.
I thought all hope was lost.
That is, until I was at a loss for what to search for next, on Ebay to buy. Since I'm a new user and all, it's gotten terribly addicting. I searched for my Pilot G2 (0.5mm) and found a seller in HONG KONG and I purchased a package of 6 in the first few weeks of March.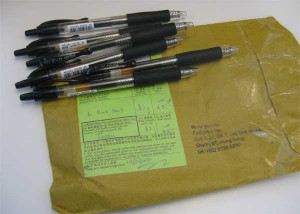 The package of 6 pens arrived on March 31 just 12 business days to get to me from Hong Kong! I'm going to covet these pens with everything I've got. Nobody is allowed to ever use them. lol.
Who knew people like that existed? Pilot doesn't sell the pens, but then there's an Ebay seller, in Hong Kong no less, who sells them. It's an incredible place, ebay.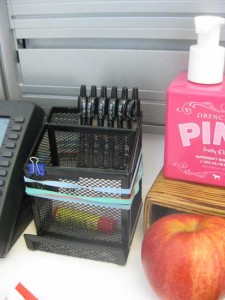 They are all now, sitting pretty on my desk at work — replacing my second favorite (Uniball 207).

Don't forget, you can now subscribe to my RSS feed!