So I didn't get to meet up with my bestie, Jenna in Toronto today. It just didn't work out :( At least I made something of the day and ended up doing a bunch of errands to make up for it.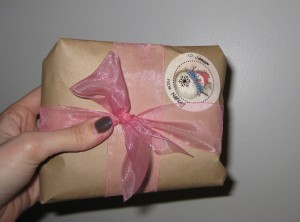 I also decided to wrap Jenna's Christmas present and get it ready to mail out in the post since I didn't get a chance to see her in person. Here is a sneak peak for you Jenna!! hee hee! Obviously I'm going to have it put on an envelope so she can at least unwrap the envelope and put this present under her tree. I plan on wrapping all my gifts in brown paper this year, with colorful ribbon.
Since I was craving sweets, I decided to go ahead and make my Mom's famous Jube-Jube/Gumdrop cake. It sounds gross, but I promise you it's delicious. I just literally put it in hte oven not even 4 minutes ago, and I totally forgot to spray the pan with non-stick stuff. Hopefully it doens't come out in blobs :/ It takes an hour to an hour and a half to cook it. Isn't that insane?
Stay tuned for photos of my yummy cake! My boyfriend isn't nearly as excited as I am about this. In fact, he's not a candy person at all, so it looks like I'll be either eating this on my own or bringing it into my co-workers on Monday to share.
Now, off to read my bloggies on google reader.